Research Permits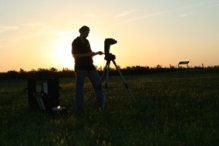 Doris Martin
Homestead National Monument of America is a great place to conduct research! The monument is home to the Nation's Second Oldest Restored Tallgrass Prairie, lowland burr oak forest and over 1 mile of Cub Creek. If you would like to conduct research at Homestead NM of America you will be required to fill out a permit. The permitting system must be filled out on-line.
To apply for a permit online go to: https://irma.nps.gov/Content/RPRS

For more information about the monument's resources or the permitting process please contact the monument's Resource Manager, Jesse Bolli at 402-223-3514 or jesse_bolli@nps.gov.

Projects that are currently ongoing are:

Bur Oak Isotope Study
Bird Study

Monitoring:

Prairie Photomonitoring 1976-current
Cub Creek Photomonitoring 2004-current
Deer Population Monitoring
Weather Monitoring
Air Quality Monitoring PM2.5 (starting fall 2008)
Thicket Monitoring
Plant Community monitoring Completed by HTLN
Aquatic Invertebrate Monitoring by HTLN
Fish Community Monitoring by HTLN
Breeding Bird Monitoring by HTLN


Did You Know?

To "Prove up" a homestead, the owner was required to make improvements including building a home, breaking the soil, and planting a crop for 5 years.