Renowned Reconciliation Quilt on Display
The world renowned Reconciliation Quilt is coming to Homestead National Monument of America from the International Quilt Study Center and Museum at the University of Nebraska-Lincoln. This prestigious quilt will be on display from May 4 - June 16, 2013 in the Monument's Heritage Center.



Lucinda Ward Honstain of Brooklyn, New York made this exquisite quilt in 1867 shortly after the Civil War. The quilt consists of 40 unique blocks depicting scenes of hope and compassion as the country began to reunite and heal. The bright and vibrant colors reflect the nation's optimism as the United States was moving past its darkest years. The quilt is a timeless piece of American folk art, shown only on a limited basis.



Do not miss this opportunity to experience a one of a kind treasure from our nation's past!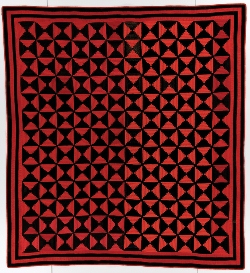 Also, be sure to check out the Log Cabin Quilts. This collection of nine quilts from the 1870s to 1930s is also on loan from the International Quilt Studies Center and Museum, and is on display in the Education Center for the same limited time period as the Reconciliation Quilt. They capture the history of quilt making and the pioneer expierience in the 19th and early 20th centuries. Quilts were often produced for utility but they have become some of the most beautiful representatives of American Folk Art. Each Log Cabin Quilt tells its own distinctive story.