Homestead National Monument Quarter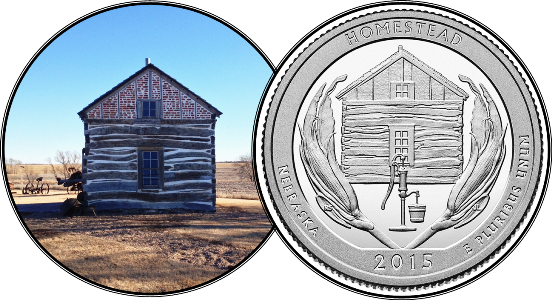 The Quarter is Here!
Now you can carry a piece of the homesteading story in your pocket! After lots of planning and excitement, the America the Beautiful quarter featuring Homestead National Monument of America has arrived. The final quarter design, created by U.S. Mint artist Ron Sanders, can be seen below and is a representation of the things homesteaders needed to survive: food, housing, and water.

U.S. Mint Lesson Plans
Celebrate the monumental release of the Homestead Quarter with your students! Access lesson plans and activities to learn about this exciting quarter design. These plans, created by the U.S. Mint, are for grades 2-3 and grades 7-8.

How to get your own Homestead quarter
From the Bookstore at Homestead National Monument of America: Purchase a special packaged quarter or P and D set of quarters from the Friends of Homestead through our cooperating association, Eastern National. You can purchase these sets in a special box at Homestead's bookstores, along with other commemorative quarter items such as key chains.
From a Beatrice bank: Banks in Beatrice, Nebraska will have quarter rolls available for exchange.
From another local bank: In order to get the Homestead quarter from your bank (outside Beatrice), you can request that your local bank place an order for the quarters. They need to specify Homestead quarters when ordering from the Federal Reserve Banks.
From the U.S. Mint: Rolls of Homestead quarters will be available for order via the U.S. Mint website. They will be sold as a two-roll set; one from Philadelphia and one from Denver Mint. This product will sell for $32.95 + $4.95 shipping.They will also have $100 bags of quarters and bullions (5 oz. silver coins) available at the same time. You can find other Homestead quarter rolls, sets, and items for sale from the U.S. Mint's catalog.

Loading the player...

Quarter Launch Video

This video celebrates the release of the Homestead quarter and was shown at the launch event on February 10, 2015.

Duration:

2 minutes, 54 seconds

Credit / Author:

Jessica Korgie

Date created:

2015-01-15
Nebraska's America the Beautiful Quarter

The U.S. Mint is issuing 56 different quarter coins featuring national parks and other national sites in an America the Beautiful Quarter Program recognizing one national park or other federal site from each state and territory. In all, there will be 56 quarters in the series, released between 2010 and 2021. The Homestead National Monument of America quarter will be released in February 2015. The coins' release dates are based on when the chosen sites were first nationally established; Homestead's 2015 quarter release reflects its 1936 designation as a national monument. It will be number 26 of the total 56 in the America the Beautiful Quarters Program.
Homestead National Monument of America is honored to have been selected for Nebraska's quarter by Nebraska Governor Heineman in cooperation with Secretary of the Treasury Timothy Geithner and former Secretary of the Interior Ken Salazar. "U.S. Mint officials made a great choice in adding Homestead National Monument to this new series of quarters," Gov. Heineman said.

Yes, Homestead!

The Homestead Act of 1862 dramatically impacted the United States and the world. It also had special significance for the state of Nebraska, making it a fitting subject for Nebraska's quarter. Learn more about the significance of homesteading in Nebraska and beyond here.

Visit Us

We invite you to come see the site of Nebraska's newest quarter for yourself, and begin learning about the Homestead Act at Homestead National Monument of America. And, it's FREE!

View the Candidate Quarters below
Homestead Quarter Designs

12 Photos

In 2015, Nebraska's quarter in the America the Beautiful Quarters Program will be released – featuring Homestead National Monument of America! View the proposed designs for Homestead's quarter, recently shared by the U.S. Mint.