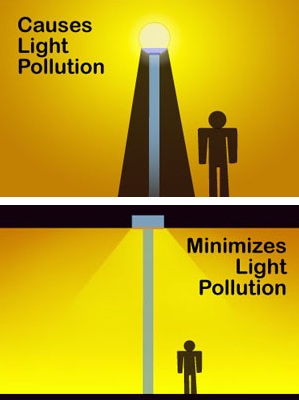 For more information on the methods used by the Night Sky staff please visit: http://www.nature.nps.gov/night/methods.cfm
Cleaning up Light Pollution
Light pollution is fortunately something that is very correctable. Studies have shown that light fixtures that direct all light downward greatly reduce the amount of light pollution. These are referred to as shielded lights. Some of the light will still reflect off the ground and scatter throughout the sky, but it is less than with older style lighting fixtures. Light pollution can also be reduced by utilizing a less powerful bulb. Some of the newer bulbs coming out in the market can greatly decrease the degradation of the night sky by light pollution. Small changes in lighting fixtures and light bulbs can make huge improvements resulting in better visibility, improved safety and less energy use. For more information go to: http://www.darksky.org/outdoor-lighting
Park sites all look at the same questions regarding the use of outside lighting:
· Why is this area being lit?
· When should it be lit?
· How many lumens are adequate?
· What spectrum of light is most beneficial?
· What are the safety and security issues in this location?
· How can we improve the quality of the visitor experience while saving energy, minimizing glare, decreasing light pollution, and reducing the impact on wildlife?

Homeowners can also apply many of these questions to their property. If every person made a small change in the amount of light they used at night there could be a large reduction in the amount of light pollution in the United States.
FOR ADDITIONAL INFORMATION VISIT:
http://www.nature.nps.gov/night/index.cfm