Flag Day Events - June 14, 2013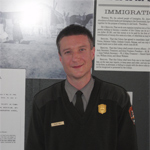 The Homestead Act… America's First Comprehensive Immigration Law?
In honor of Flag Day, Homestead Historian Blake Bell will be giving a special program at Homestead's Education Center on June 14, 2013 at 10 a.m. Being without question a land law, learn how the Homestead Act of 1862 was also the first comprehensive immigration law that encouraged people to come to the United States and how it provided all the necessary requirements for citizenship.
Loading the player...

U.S. Immigration Naturalization

2:00 p.m. Homestead Education Center The moment a person becomes an American citizen is a profound event that you can be a part of. Join us at Homestead National Monument to bear witness and celebrate as these individuals who have worked so hard finally become citizens of the United States of America.

Duration:

1 minute, 35 seconds

Credit / Author:

Jessica Korgie

Date created:

2013-05-31