NPS Photo
WHO WERE THE HOMESTEADERS?

Nearly 4 million homesteaders settled our country over 123 years, across 30 states. All of these people have personal stories. Homestead National Monument of America is collecting the stories of individuals who are part of this story and have left a legacy to our country. You might have access to these stories; 93 million people have an ancestor or relative who homesteaded. Are you one of them?

Homestead National Monument also features the homesteading legacies of notable homesteaders and homesteader decendents. Read their brief biographies here and see their banners at the Education Center.
Are you a Descendent of a Homesteader?

Contact us:
Homestead National Monument of America
8523 W. State Highway 4
Beatrice, NE 68310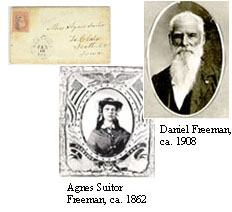 NPS Photo
THE FIRST HOMESTEADER

Daniel Freeman
was the first person to file his claim to 160 acres of free land offered by the Homestead Act of 1862. The Freeman Family Scrapbook gives a glimpse of the life of a Homestead Family. See also the
Freeman Letters
.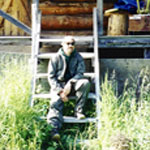 HNM Image
THE LAST HOMESTEADER
The last person to prove up on their homestead claim was found in Alaska. Ken Deardorff filed a homestead claim on 80 acres of land on the Stony River in southwestern Alaska in 1974.
Back to History and Culture Page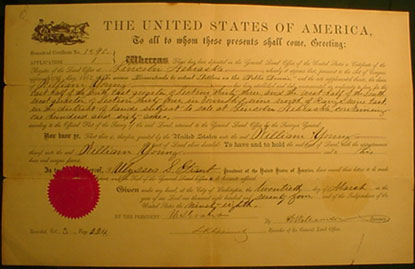 HMN image
RECORDS
Homestead records were created for every homestead claim that was filed. We are working on completing a database of these with our land records project.
HNM image
EXODUSTER
African Americans flooded across the land to find their new beginnings. They became known as the Exodusters.
RURAL PROGRESS: ELECTRICITY
Early homesteaders and other settlers of the West did not have electricity, and remained without while urban areas were able to have that benefit. The Rural Electrification Act provided a "fair chance" for those living in rural places.
ABRAHAM LINCOLN AND THE WEST
Abraham Lincoln wanted to populate the West and take advantage of the region's commercial and agricultural potential. He also sought to rapidly establish a western base of population, and institutions that were sympathetic to the Union cause. These were his motivations in supporting the passage of the Homestead Act of 1862, among other legislation.