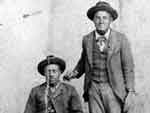 Library of Congress
The Exodus of 1879
The great 1879 exodus of African-Americans was largely influenced by the outcome of 1878 elections in the state of Louisiana, in which the Democratic Party made major gains by winning several congressional seats and the governorship. Freed blacks, largely Republican supporters, were coerced, threatened, assaulted and even murdered to keep them away from the ballot box. When the final tallies were in and the Democrats claimed almost total victory, many black Louisianans knew that the time had come for them to abandon their state and join those already in Kansas. Senator William Windom, a white Republican from Minnesota, introduced a resolution on January 16, 1879, which actually encouraged black migration out of the South. The Windom Resolution, together with southern white bigotry and the letters and newspaper articles of those blacks already in Kansas, led many southern freed men and women to finally decide to make their ways to Kansas. By early 1879, the "Kansas Fever Exodus" was taking place.
The 1879 exodus removed approximately 6,000 African-Americans primarily from Louisiana, Mississippi and Texas. Many had heard rumors of free transportation all the way to Kansas, but they were sorely disappointed when they discovered that such a luxury did not exist. Very few, however, were dissuaded by this inconvenience.
Many southern whites had a racist and patronizing attitude about blacks in general and the exodus in particular. As much as whites hated dealing with freed blacks, they still wanted the former slaves there as a cheap labor force. Many southern whites became so alarmed by the exodus that they began to pressure their elected officials to put a stop to it. They eventually succeeded, and a U.S. Senate committee met for three months in 1880 to investigate the cause of the exodus. The committee disintegrated into partisan bickering and accomplished little.
Despite this, blacks continued to leave for Kansas. By early March, about 1,500 had already passed through St. Louis en route to Kansas. Back in Mississippi and Louisiana, thousands more crowded onto riverbanks to wait for passing steamers to give them passage to St. Louis. One white man stated that the banks of the Mississippi River were "literally covered with colored people and their little store of worldly goods [sic] every road leading to the river is filled with wagons loaded with plunder and families who seem to think that anywhere is better than here."
Once in St. Louis, many of the exodusters had little idea how to continue their flight with no resources. Some were so destitute that they could not feed themselves or their families. In response, St. Louis clergy and business leaders formed committees to assist the freed blacks so that they could survive and makes their ways to Kansas. Food and funds were collected from the local community as well as from sympathizers from Iowa to Ohio. Lack of shelter, however, became the most serious problem, and many blacks were forced to sleep outside near the waterfronts to which the steamships had delivered them. Care of the exodusters in St. Louis became a political issue, especially after the Democratic-leaning Missouri Republican began running anti-black stories and tales of mishandling of donated funds. By the time the last of the exodusters departed St. Louis by rail, wagon, boat or on foot, even the most sympathetic citizens were likely happy to see them go.
Back in the South, more African-Americans continued to plan to depart for Kansas. Black social leaders and ministers often sang the praises of the exodus, comparing it to Moses and the Israelites' escape from Egypt. Of course, some black leaders spoke out against the exodus as well, stating that those leaving for Kansas were jeopardizing the future of those who chose to stay behind and that democracy should be given more time to work. Among the most notable of those that tried to dissuade blacks from fleeing the South was Frederick Douglass.
Southern whites continued to oppose the exodus as well. Many went to extreme measures to try to keep blacks from emigrating, including arrest and imprisonment on false charges and the old standby of raw, brute force. African-Americans suffered beatings and other forms of violence at the hands of whites desperate to keep them in the South. Though these typical forms of intimidation did not really prevent many freed blacks from leaving, the eventual refusal of steamship captains to pick them up did. One can only guess that at least some of these sailors had been threatened or paid not to offer blacks passage to St. Louis.
End of the Exodus
The exodus began to subside by the early summer of 1879. Though some African-Americans did continue to head for Kansas, the massive movement known as the exodus basically ended with the decade of the 1870s. That ten-year period had witnessed great changes for blacks both in the South and in Kansas. In 1870, Kansas had hosted a black population of approximately 16,250. Ten years later, in 1880, some 43,110 African-Americans called Kansas home. Between the earlier gradual migrations and the 1879 exodus, Kansas had gained nearly 27,000 black residents in ten years. Though a far greater number of blacks remained in the South, this number still represents 27,000 individual dreams of a better life and 27,000 people that acted on their desires and their rights to enjoy the freedoms to which they supposedly had been entitled since the Emancipation Proclamation. Though few found Kansas to be the Promised Land for which they hoped, they did find it a place that enabled them to live freely and with much less racial interference than in the South.
For more information or to plan a trip to Nicodemus National Historic Site go here.
Back to History and Culture Page
Additional Reading
Athearn, Robert G. In Search of Canaan: Black Migration to Kansas, 1879-80. Lawrence, Kansas: The Regents Press of Kansas, 1978.
Crockett, Norman L. The Black Towns. Lawrence, Kansas: The Regents Press of Kansas, 1979.
Hamilton, Kenneth Marvin. Black Towns and Profit: Promotion and Development in the Trans-Appalachian West, 1877-1915. Urbana, Illinois: University of Illinois Press, 1991.
Katz, William Loren. The Black West: A Documentary and Pictorial History of the African-American Role in the Westward Expansion of the United States. New York: Touchstone, 1996.
Painter, Nell Irvin. Exodusters: Black Migration to Kansas after Reconstruction. New York: W.W. Norton & Co., 1976.
Taylor, Quintard. In Search of the Racial Frontier: African-Americans in the American West, 1528-1990. New York: W.W. Norton & Co., 1998.
Back to History and Culture Page