Traveling Trunk Policies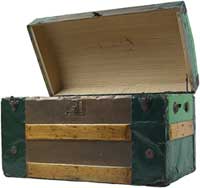 Homestead's traveling trunks are designed so that teachers and students anywhere can receive hands-on educational materials relating to the Homestead Act and westward expansion. The trunks are easily shipped in a large flat rate box from the United States Postal Service. The only costs associated with "borrowing" a trunk is the return postage.


Traveling Trunk Policies

-Traveling trunks can be requested by calling 402-223-3514 or emailing e-mail us.

-Traveling trunks are lent on a first come-first served basis.

-Traveling trunks are available for 1 week, which does not include the shipping back and forth. A longer time frame may be requested, but is subject to demand and availability.

-Traveling trunks are shipped in large, flat-rate priority mail boxes from the United States Postal Service. The current rate is approximately $17 to ship.

Please note: The Prairie Animals trunk has an additional cost if you request both trunks.

-Homestead National Monument of America is committed to bringing parks to classrooms and therefore will pay the shipping to your school.