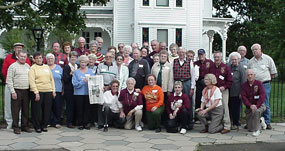 HNM Image
Volunteer Opportunities
Volunteers assist at all levels at Homestead National Monument of America. There are volunteers that assist with administration. Some are project leaders for nationally recognized research. Students, Boy Scouts, Girl Scouts and 4-H groups often help with projects. Volunteers of all ages help at special events and demonstrate various skills and tasks of successful pioneers.
We would love to have you as part of our team! If you would like to volunteer at Homestead, contact Park Ranger Susan Cook at (402)223-3514 or complete this application and mail it to Homestead National Monument of America, 8523 West State Hwy 4, Beatrice, NE 68310.
Current/new volunteers: Complete this volunteer agreement and bring it with you when you arrive at your scheduled volunteer event. Those under 18 years old need to have the parental approval completed in the second section.
For more information about volunteer opportunities with Federal agencies, click here.
Apply to our Artist-in-Residence Program to live and work at Homestead, creating pieces and volunteering your time and talent to share your art with the public.

Enjoy birding and interested in volunteering at Homestead? Click here for how you can help us!

Join the Rangers in collecting native plant seeds in the tallgrass prairie. The seeds collected will be used for the restoration of monument land.
Volunteer collects sample from Cub Creek for the ongoing
Water Quality Project
and assists Ranger with testing in laboratory.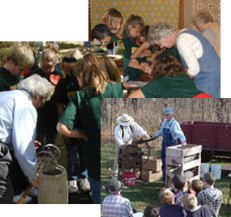 HNM Image
Volunteers demonstrate some of the common activities of pioneers for students at Pioneer Days. Shown clockwise from left churning butter with a hand cranked butter churn, hand quilting with only a needle and thread, and shelling corn with a hand cranked sheller.