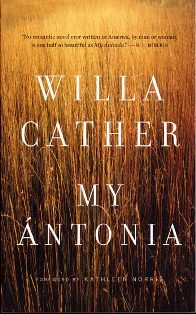 My Antonia by Willa Cather
Willa Cather's masterful portrait of prairie culture, based on her own life. Against Nebraska's panoramic landscape, Cather recreates the life of an immigrant girl who becomes, in the memories of narrator Jim Burden, the epitome of strong and dignifed womanhood.
Pulitzer Prize-winning writer Willa Cather once famously observed, "The end is nothing; the road is all." Cather herself made the most of the road she traveled, wearing an indelible literary path studded with classic American novels from O Pioneers! to My Ántonia.