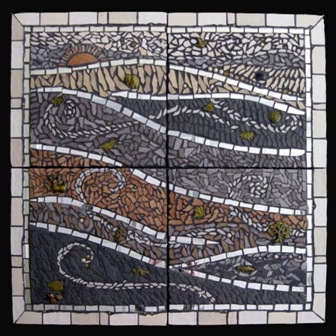 Samie Dozor
2011
Samie Dozor, mosaic artist from Delaware
"I was inspired by the tallgrass prairie and wanted to do something involving the local community. That's how my workshops to make a community mosaic mural came to be. If I had the opportunity, I would do it again."
Lucy Fazely, fibers (quilting) artist from Michigan
Being an Artist in Residence was an experience I'll never regret taking advantage of. THere were far more opportunities to explore the history of quilting and homesteading than I had an opportunity to take advantage of. The research I started as an AIR continues and has benefited both my writing and quilting endeavors.
Lisa Olivarez, landscape painter from Michigan
"I remember most the sky, the sun, the unceasing wind, the heat, the insect sounds. For the first time I was close enough to a buck to hear him snort. I remember the clouds hurrying so fast across the vast sky that I had to scramble to even record a glimpse of them on canvas. It was HOT, but magical, and it strongly impacted my art."
Carol V. Davis, poet from California
"Thank you! The staff was so helpful. I learned so much about the the impact of the Homestead Act and about the prairie!"
Joseph Carl Kerkman, photographer & painter from Wisonconsin
David Boye, musician from Nebraska
"Superb facilities and housing, great friendly staff, great program all around."
Jason Jilg, photographer from Nebraska
"My time at the Homestead was and inspiring and wonderful experience. One the eve of the 150th anniversary of the Homestead Act it was a fantastic opportunity to be an artist in residence at the monument. I worked in several historic photography processes, similar to those used 150 year ago. These methods in conjunction with this landscape and artifacts at the monument had a profound impact on my time there. It transported me back to that era."