2015 Events
June 3 - August 12 - Music In The Parks - Free Lawn Concerts at Vanderbilt Mansion and Staatsburgh (Mills Mansion)
June 13 - ERVK Cottage Conversations Kick-off - Author Ari Berman To Speak On The 50 Year Fight for Voting Rights - RSVP at info@ervk.org or call 845-229-5302.
June 14 - "Fighting On Two Fronts," an original vignette portraying the story of Augustus Freer, an African American descendant of Huguenot Street who fought in WWII. Presented by Historic Huguenot Street. Free Admission. Performances at 12:00, 2:00 and 4:00 at the Henry A. Wallace Visitor & Education Center.
July 20 - 24 - Project Write - Writing Into History - A Young Writers' Program: Ages 12-16
July 28 - 30 - Teaching the Hudson Valley Summer Institute - Teaching for Engagement: The Next 100 Years
Upcoming Events
Showing 5 results
  Show ALL instances of recurring events

 RSS Feed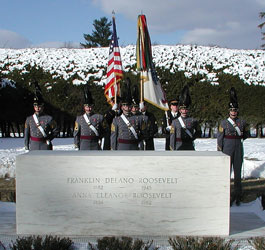 WD Urbin
The National Park Service hosts many special events at the Home of Franklin D. Roosevelt during the year. These include 3 annual events in the Rose Garden, FDR's birthday on January 30, Memorial Day in May, and Eleanor Roosevelt's birthday on October 11. The United States Military Academy at West Point provides an honor guard and color guard for FDR's birthday commemoration. All three events include guest speakers and the presentation of commemorative wreaths by community organizations.