Schedule Of Events
Search for Events
Events Upcoming for March
Showing 1 results
Saturday, March 8, 2014

Step back in time to 1939 and meet the staff who reveal the inner workings of the Roosevelt household. More

Time:

10:00 AM,11:30 AM,2:30 PM,4:00 PM

Location:

Home of Franklin D. Roosevelt

Fees:

Regular Admission Prices Apply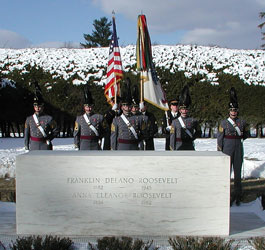 WD Urbin
The National Park Service hosts many special events at the Home of Franklin D. Roosevelt during the year. These include 3 annual events in the Rose Garden, FDR's birthday on January 30, Memorial Day in May, and Eleanor Roosevelt's birthday on October 11. The United States Military Academy at West Point provides an honor guard and color guard for FDR's birthday commemoration. All three events include guest speakers and the presentation of a commemorative wreaths by community organizations.
Check the Schedule of Events for more information.


Did You Know?
FDR and his fifth cousin Teddy Roosevelt both went to Harvard, were Assistant Secretary of the Navy and Governor of New York State before becoming President of the United States.