Leave No Trace
The member-driven Leave No Trace Center for Outdoor Ethics teaches people how to enjoy the outdoors responsibly. This copyrighted information has been reposted with permission from the Leave No Trace Center for Outdoor Ethics: www.LNT.org
The Leave No Trace Seven Principles
Take only memories & pictures, leave only footprints. It's a simple rule of thumb that allows your parks and recreation areas to thrive and be enjoyed by you and countless others who will come after you. We urge you to study and pass on the seven principles and most importantly, practice the seven principles whenever you visit any public recreation area.
The Leave No Trace Seven Principles:
Plan Ahead and Prepare
Travel and Camp on Durable Surfaces
Dispose of Waste Properly
Leave What You Find
Minimize Campfire Impacts
Respect Wildlife
Be Considerate of Other Visitors
Remember: Whenever you visit archeological sites, Immediately notify park staff if you find artifacts. Removal of artifacts from protected areas is forbidden by law.
To learn more about The Leave No Trace Seven Principles, click here to be taken to the Leave No Trace website.
Visitor Recreation in National Parks
For a NPS video about leaving no trace and the impacts of visitor recreation in the national parks, click here.
Did You Know?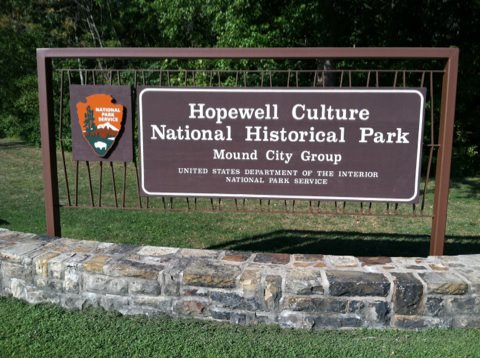 Established on March 2nd, 1923 as Mound City Group National Monument, the park was the first federally created National Park Service site in Ohio. President Warren G. Harding, a native of Ohio, established the national monument using powers granted to him under Section 2 of the 1906 Antiquities Act. The park was eventually re-named Hopewell Culture National Historical Park on May 27th, 1992 after congressional legislation was approved in the House and the Senate. More...