Special Events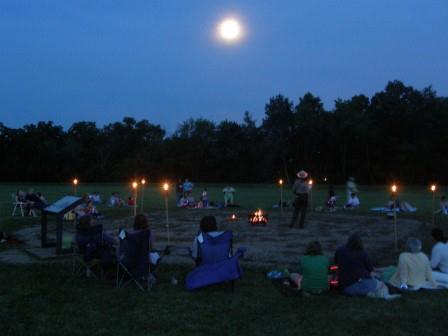 NPS/Tom Engberg
The park hosts special events throughout the year. This page features annual events at the park that include lectures on cultural and natural resources, commemoration events, and special activities for children. Most programs are fee free and are open to visitors and groups of all ages. If you have any questions or would like more information than what is listed below, please call (740)774-1126.
Park Calendar of Events
View the detailed Park Calendar and search for events based on dates.

Annually Occurring Park Events:
Free Yoga in the Park!
Dates: Saturdays in July, August & September
Time: 9:00 am
Where: Mound City Group Visitor Center
Join us at the Mound City Group Visitor Center on Saturdays at 9 a.m from July 17 - September 20 for free yoga with a certified yoga therapist. All fitness levels welcome! Bring your own yoga mat, blanket or towel and enjoy a beautiful morning in the park as you stretch the body, mind and spirit. If weather does not permit an outdoor class, we will gather in the visitor center auditorium. Classes last approximately 60 minutes. Yoga in the Park is a new program developed in support of the National Park Service's "Healthy Parks, Healthy People" initiative. Yoga in the park is made possible through partnerships with Terry Dunlap, owner of Living Balanced Yoga Studio and the YMCA of Ross County. For more detailed information and to sign up, call the Mound City Group Visitor Center: 740-774-1126.
---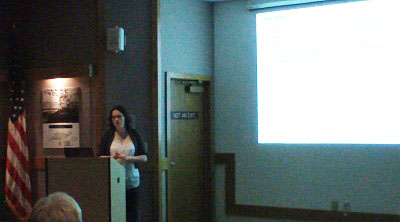 NPS / Tom Engberg
The Robert L. Harness Lecture Series
Date: Thursdays in June & July
Time: 7:30 pm
Where: Mound City Group visitor center
July 10, 2014
The Harness Collection
Gary Argabright
The Harness family farm has drawn the attention of antiquarians from the earliest days of archaeological study in Ross County. Foremost among its many prehistoric earthen monuments are the Liberty Earthworks and the Edwin Harness Mound. These and other sites on the farm have been the scene of archaeological activities for more than 150 years now. For much of the last half of the 20th century, the caretaker of the farm and its prehistoric heritage was Robert Lee Harness. Born on the farm in 1918, Bob spent much of his life there. Over the years he came to realize its importance for scientific study and soon became well-known to the archaeological community. In the early 1960s, Bob began to systematically collect the prehistoric artifacts which were being exposed by the farming techniques of the day and over the next forty years amassed some 20,000 items which were carefully labelled and displayed in his basement museum. Analysis of the collection reveals that the farm has been visited by prehistoric peoples since the Paleo Period and includes examples of almost every known type. After a brief discussion of the farm's archaeological history, this evening's talk will focus on the organization of the collection and its importance for future scientific study.


July 17, 2014
Prehistoric Architecture of the Ohio River Valley
Bill Kennedy
Prehistoric architecture has been a neglected topic of scholarly interest in the Ohio River valley, however this has not been due to a lack of data. Although post-molds and other architectural remains are commonly found on sites of most prehistoric periods, archaeologists have struggled to understand how to interpret the three-dimensional structures that they represent. Although we do not yet have many of the answers we seek, we now understand these remains well enough to describe them in meaningful ways and ask answerable questions of the archaeological record. This lecture will include an introduction to the study of prehistoric architecture and examples of full-scale rebuilt structures from the Late Prehistoric period.
---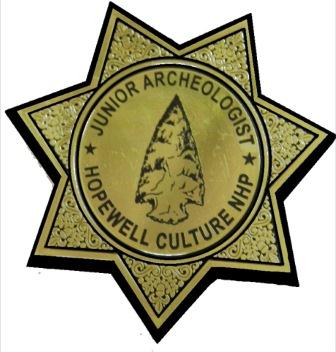 Junior Archeology Days
Dates: June 25
July 16, 26, 30
August 16
Time: 10:00am - 12:00pm
Where: Mound City Group visitor center

The Junior Archeologist program is an opportunity for children to learn about the archeology at Hopewell Culture National Historical Park and have fun at the same time!Children ages 5 -12 are invited to participate in this event. Children will be able to watch our 17-minute video, tour our museum, take a ranger-led mound tour, and participate in a mock dig to earn a Junior Archeologist badge!
Parents and/or Guardians, Please Note; you will be required to stay with your children during the entire program.
---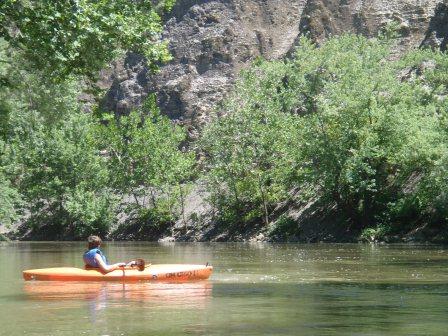 NPS / Brandi Nunnelee
Prehistoric Paddle on Paint Creek
Dates: Thursdays
June: 26
July: 3, 10, 17, 24, 31
August: 7
Time: 10:00 am
Where: Meet @ Water's Edge Canoe Livery
Fees: Canoe/Kayak rental or bus shuttle fee apply *
During the summer, you can join a Park Ranger from Hopewell Culture National Historical Park for a guided paddle on Paint Creek!
Boaters begin the journey at Water's Edge Canoe Livery. You may bring your own boat or rent a Kayak or Canoe from the livery. From Water's Edge Canoe Livery boaters are shuttled to just north of Seip Earthwork to the shores of Paint Creek where the program begins. The tour is approximately 8 miles and will last from 3 hours to 5 hours, ending at Jones Levee bridge where boaters will be picked up and shuttled back to Water's Edge Canoe Livery. Boaters also have the option to paddle on 11 miles to Water's Edge Canoe Livery. Things to bring along: Sack Lunch, Water, Sunscreen and Bugspray
* For more information, visit the park Canoe/Kayak Page for rental / bus shuttle fees info, dates and contact information.

---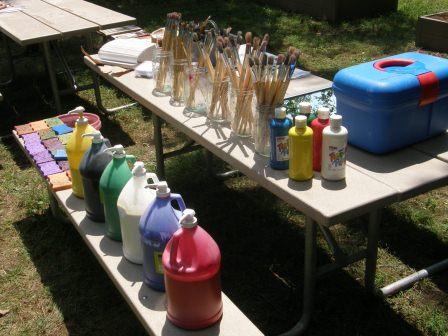 NPS / Susan Knisley
Arts Afire - Mound City Summer Art Program
Experience Your National Park Through Art!
Join us at Mound City Group in July for our annual summer art program. Throughout the program students will learn about famous artists, art styles, and art techniques, all while making connections to history and nature.
All supplies will be provided. Admission is free! The program will be available Tuesday's in July.
Please call one week in advance to make reservations at 740-774-1126.
Please Note: Students must be accompanied by an adult during the entire program.
Sign-up for a program according to the age of your child:

Dates: July 1, 8, 15, 22, and 27

Time: Ages 5-8, 10:00am - 12:00pm
Ages 9-12, 2:00pm - 4:00pm

Where: Mound City Group visitor center
---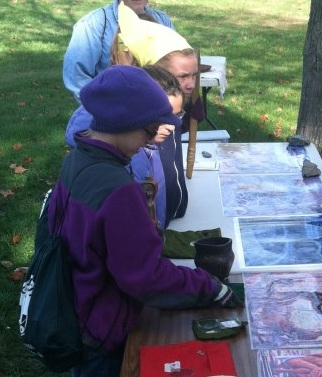 NPS Photo
Hopewell Discovery Day

Date: Saturday, July 12, 2014
Time: 10:00am - 2:00pm
Where: Mound City Group Visitor Center
Admission: FREE to all!
Hopewell Discovery Day is a FREE day of activities dedicated to learning about the science of archeology and understanding the Hopewell culture. Enjoy this exciting day of discovery and uncover the mysteries of the Hopewell culture as you engage in the following activities:
Primitive Skill Demonstrations and the Science of Archeology
Learn the art of ancient textile manufacturing & view professional flintknappers creating spear points similar to those crafted by the Hopewell. Learn about primitive pottery techniques while shaping a clay pot with your own hands. Learn the technique of primitive fire making by rubbing two sticks together. Discover natural camouflage face painting and have your own face painted. Discover how archeologists are going high tech to find earthworks by using geophysics, LiDAR, and aerial reconnaissance.
Primitive Fire Demonstrations: 10:30 a.m. & 1:00 p.m.
All other Demonstrations and Exhibits: 10 a.m. - 2 p.m.
Artifact & Fossil ID
William Pickard, Assistant Curator of Archeology at the Ohio History Connection, will be identifying artifacts while fossil identification will be provided by Jack Kallmeyer of the Dry Dredgers, an association of amateur geologists and fossil collectors.This is a great opportunity to bring out those rocks, fossils andarrowheads that have been collecting dust on your shelves and learn their hidden stories.
Times: 10:00a.m. - 12:00p.m. & 12:30p.m. - 2:00p.m.
Live Music
Sunflower: Enjoy the beautiful sound of live flute music performed by renowned recording artist, Sunflower.
Performance times: informally throughout the event duration
Steve Free: Experience the music and storytelling of internationally acclaimed award winning singer/songwriter/recordingartist, Steve Free.
Performance times: 11:30 a.m. & 1:15pm
History to Go Van presents "The American Indian Experience"
The Ohio History Connection's History To Go van will present "The American Indian Experience" which offers visitors a hands-on look at authentic American Indian artifacts and more. Visitors of all ages will be able to interact with authentic and replica artifacts, use a pump drill, play a life skills game or try throwing a spear with an atlatl!
Time: 10:00 a.m. - 1:00 p.m.
Earthwork Tours
Join park rangers as they guide you through the mysterious and sacred Mound City Group.
Patio Talk: 10 a.m. (30 minutes)
Mound Tour: 2 p.m. (60 minutes)
Live Archeology Demonstration
Visit Dr. Bret Ruby and the Archeological Resources Team for a live archeologocial flotation demonstration near the entrance to the Mound City Group Visitor Center. Flotation involves using water to process soil or feature fill to recover tiny artifacts and organic material.
Time: 10:00 a.m. - 2:00 p.m.
"Prehistoric Perspectives" – Guest Speakers
Join guest speakers Gary Argabright, Kathryn Jakes and Jarrod Burks on the visitor center lawn as they discuss a variety of topics sure to enlighten your understanding of the Hopewell culture and the science of archeology during "Prehistoric Perspectives." Speaker times to be announced.
Observations on Stone Tool Technology
Gary Argabright, Mound City Chapter, Archaeological Society of Ohio
Time: 11:00 a.m.
Gary Argabrightis a retired school teacher living in Chillicothe where he taught history and Latin at Chillicothe High School for thirty years. He attended Ohio University where he earned a B.A. degree in world history in 1971 and an M. A. degreein Ancient History in 1978. Gary developeda love of ancient cultures during his college years specializing in ancient numismatics, architecture and books. He has been an avid surface collector for more than 35 years with well-documented collections from nearly 70 different farms in Ross County. Gary's current interests include the hafting of prehistoric stone tools, the use of serration and lithic reduction processes.
Hopewell Textile Replication
Kathryn Jakes, Professor of Consumer Sciences, College of Education and Human Ecology,
The Ohio State University
Time: 12:20 p.m.
Kathryn Jakes is a textile and fiber scientist who has studied archaeological materials for over 20 years. She is a professor of Consumer Sciences in the College of Education and Human Ecology and is the co-leader of the Material Culture Studies Working Group at the Ohio State University. Dr. Jakes received her PhD in Textile andPolymer Science from Clemson University, her MS degree in Home Economics,Textiles Science from the University of Maryland and her BS in Home Economics,Textiles from the University of Illinois. Dr. Jakes' research encompasses the study of historic and archaeological textiles and their environment to learn about their composition and structure and the degradation they have undergone, as well as the study of modern textiles to characterize their present condition and predict their performance throughout the lifecycle. Dr. Jakes works with textile artisan, JoyCain, who replicates historic textiles, to understand the steps required from the collection of plants through manufacture of fabric to the use of fabric by prehistoric people.
Going High Tech to Find Earthworks: Geophysics, LiDAR, andAerial Reconnaissance
Jarrod Burks, Archeologist, Ohio Valley Archaeology, Inc.
Time: 12:45 p.m.
Dr. Jarrod Burks is a professional archaeologist who works for a private archaeology firm in Columbus, Ohio. Jarrod received his PhD and MA degrees in anthropology (archaeology) from The Ohio State University and his BA degree in anthropology from the University of Illinois at Urbana/Champaign. One of his great passions is relocating ancient earthwork sites through geophysical survey. To that end he has surveyed several dozen of these earthwork sites in Ohio, making numerous unique discoveries, including finding previously unknown earthwork sites. Jarrod is a trustee of the Ohio Archaeological Council, a nonprofit organization of professional and avocational archaeologists, and he is the Vice President and a founder of the Heartland Earthworks Conservancy. During his day job, Jarrod spends a lot of time trying to find things of archaeological importance for others to dig up. He is also often in cemeteries attempting to locate unmarked graves. Such work has taken him to several interesting corners of the planet, including Guadalcanal and Poland.
Exhibits – Artifacts and Photographs
Experience Ohio's earthworks through the eye of the photographer. An earthwork photo display presented by the Ohio Native Heritage Archive and the Newark Earthworks Center both of The Ohio State University at Newark will be exhibited in the Mound City Group Visitor Center auditorium. An extensive collection of Ross County artifacts will be displayed on the visitor center lawn by Gary Argabright and John Barnhart of the Mound City Chapter of the Archaeological Society of Ohio.
Earthwork Photo Exhibit: July 12 - August 13, Mound City Group Visitor Center Auditorium
Artifact Display: July 12 only, 10a.m. - 2p.m.
Nature
Learn to identify native plants and animals from experts in the biology and ethno botanical fields, while also gaining an understanding of their native uses.
Time: 10a.m. - 2p.m.
Bring a picnic lunch and enjoy a day of discovery
in your neighborhood national park!
Visit the Directions Page for directions and maps to the Mound City Group Visitor Center. Hopewell Culture National Historical Park is open year-round, except for Thanksgiving Day, Christmas Day & New Year's Day. The visitor center at Mound City Group is open from 8:30 am to 5:00 pm daily.
---
Photo courtesy of the Ohio Historical Society
Remembering Camp Sherman:
A Commemoration of Chillicothe's Contribution to World War I
Date: November TBD, 2014
Time: TBD
Where: Mound City Group Visitor Center

Join Hopewell Culture National Historical Park in commemorating Camp Sherman. Come and view artifacts and historic footage from this WWI training camp, which trained nearly 120,000 soldiers for battle.
"Camp Sherman: In Retrospect" is an audiotape and slide show presentation that was first produced in 1982 from oral history interviews that were recorded with 16 individuals who had direct experience with America's third-largest Army training base during World War I. The National Park Service production was recently converted into a digital format for new generations of viewers and listeners. The program lasts about 42 minutes and will be screened regularly on a large dedicated computer monitor throughout the event. A separate computer will be made available for visitors who wish to search a database for records of relatives who may have served at the military base. Camp Sherman artifacts and film footage will be on display each day.
To learn more about the history of Camp Sherman, visit the Camp Sherman page.
---
Did You Know?
William Mills documented the presence of 49 enclosures and 370 mounds in Ross County in his book entitled "Archaeological Atlas of Ohio," published in 1914.