Possible Slick Conditions

Temperatures will remain below freezing for the foreseeable future. As a result, isolated slick patches from snow & ice remnants may exist at park sites, including parking lots. Please use caution when visiting. Crews are working to mitigate slick spots. More »
Special Events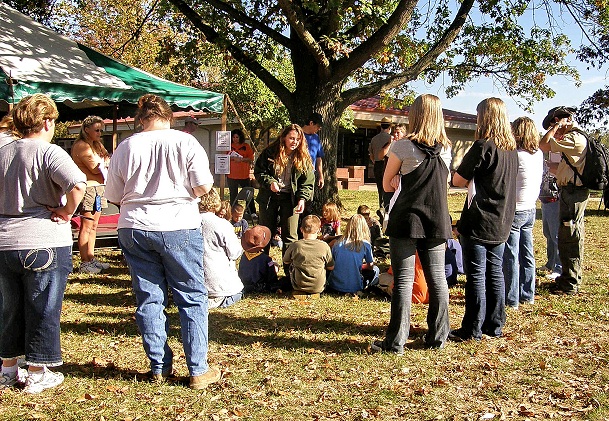 The park hosts special events throughout the year. These events include lectures on cultural and natural resources, site tours, and special activities for children. All programs are free and are open to visitors and groups of all ages. Events, unless otherwise noted, take place at the Mound City Group visitor center located at 16062 State Route 104, Chillicothe, OH 45601. If you have any questions or would like more information than what is listed below, please call (740)774-1126.
Park Calendar of Events
To view the calendar, click here.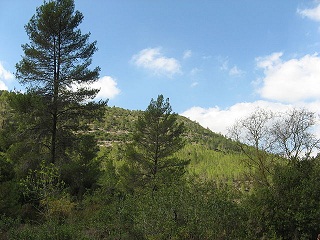 Natural History of the Holy Land
Date: December 18, 2013
Time: 7:00 pm - 8:30 pm
Location: Mound City Group Visitor Center
The politics and security situation in the Middle East feature prominently in the news. Our image of this region, especially that of the Holy Land, is shaped by the media, Biblical stories, movies, newspaper and magazine articles, etc. Join us and learn about a different aspect of Israel, that of the richness and beauty of its natural world.
At the confluence of the continents of Europe, Asia and Africa Israel contains unique geographical and biological conditions that contribute to a high diversity of plants and wildlife. Did you know that Israel has snow-capped mountains with a ski resort on its northern border? Did you know that it is a major flyway for bird migration? Did you know that the Judaean Desert is caused by a rain shadow? Come take a photo journey from the mountains and forests of the north to the deserts of the south with Park Biologist Dafna Reiner who has personally spent many years in these areas. We'll answer these questions and elaborate on others too as we virtually visit the natural history of the Holy Land.
For driving directions to Mound City Group, click here. Hopewell Culture National Historical Park is open year-round, except for Thanksgiving Day, Christmas Day & New Year's Day. The visitor center at Mound City Group is open from 8:30 am to 5:00 pm daily.
---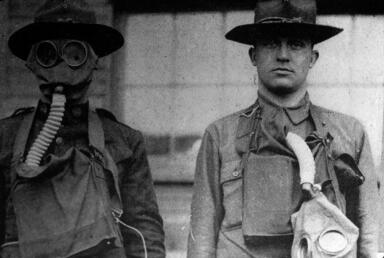 NPS Photo
Remembering Camp Sherman:
A Commemoration of Chillicothe's Contribution to World War I
Date: November 9-10, 2013

Thanks to all of our visitors who helped to make the Camp Sherman event a resounding success! We look forward to hosting the event next and hope to have an expanded assortment of items on display and updated digital media.
Join Hopewell Culture National Historical Park in commemorating Camp Sherman. Come and view artifacts and historic footage from this WWI training camp, which trained nearly 120,000 soldiers for battle.

"Camp Sherman: In Retrospect" is an audiotape and slide show presentation that was first produced in 1982 from oral history interviews that were recorded with 16 individuals who had direct experience with America's third-largest Army training base during World War I. The National Park Service production was recently converted into a digital format for new generations of viewers and listeners. The program lasts about 42 minutes and will be screened regularly on a large dedicated computer monitor throughout the event. A separate computer will be made available for visitors who wish to search a database for records of relatives who may have served at the military base. Camp Sherman artifacts and film footage will be on display each day.
---
Ohio University - Chillicothe (OU-C) Giving Circle, Office of Continuing Education & Workforce Development and Hopewell Culture National Historical Park present:

Interrelationships of Humans with the Physical Environment: A Case Study of Pre-Historic Moundbuilders and the Contemporary populations in the Scioto Valley.
This event has been CANCELLED
---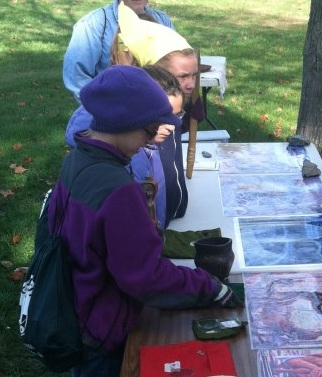 NPS Photo
Hopewell Discovery Day 2013

Cancelled
Time: N/A
Location: Mound City Group Visitor Center grounds
Admission: FREE to all!
The 2013 Hopewell Discovery Day was cancelled due to the federal government shutdown from October 1 - October 16. We sincerely apologize for having to cancel this year's event as many visitors and our staff always look forward to this festive day. We are currently planning next year's Discovery Day event, so check back often to get the latest on the 2014 Hopewell Discovery Day.
Hopewell Discovery Day is a free day of activities dedicated to learning about the science of archeology and understanding the Hopewell Culture.
Activities and Events include:

Artifact & Fossil ID
Experts will be on-hand to identify artifacts and fossils, and explain flint knapping techniques. This is a great opportunity to bring out those rocks, fossils and arrowheads that have been collecting dust on your shelves!
OHS History to Go Van
The Ohio Historical Society's History To Go van will present "The American Indian Experience" which offers visitors a hands-on look at authentic Indian artifacts and more. Visitors of all ages will be able to interact with authentic and replica artifacts of Ohio's native cultures, use a pump drill, play a life skills game or try throwing a spear with an atlatl!
Earthwork Tours
Join park rangers as they guide you through the mysterious and sacred Mound City Group
Archeology Collections Building
Visit the park's state-of-the-art collections facility to see how artifacts are identified, housed and cared for.
Guest Speakers
Join professionals as they chat and provide insight on a variety of Hopewell topics during "Prehistoric Perspectives" in the guest speaker tent.
Textiles
Learn about prehistoric pottery, textiles & tools Flint KnappingView professional flint knappers creating spear points similar to those crafted during Hopewellian times
Music
Enjoy the beautiful sound of live flute music as it permeates the air, performed by renowned Flutist, Sunflower.
Nature
Learn to identify native plants and animals. Learn about freshwater mussels too!
Activities are still being planned, so check back regularly to see what will be available on the day of the event. And remember, admission is always free!
Click here for directions to the Mound City Group visitor center. Hopewell Culture National Historical Park is open year-round, except for Thanksgiving Day, Christmas Day & New Year's Day. The visitor center at Mound City Group is open from 8:30 am to 5:00 pm daily.
---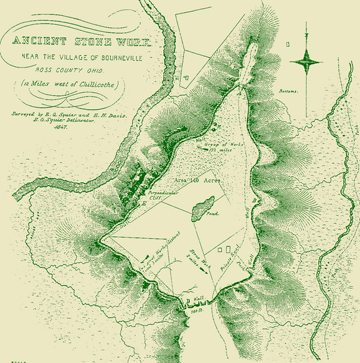 Squire & Davis, 1848.
Guided Hike to Spruce Hill Isthmus

Date: Sunday, September 22, 2013
Thank you to all who visited the site with us!
It was an absolutely gorgeous day for a hike! Look for photos of the hike to be posted soon in our photo gallery and on our flickr page.
Difficulty Level: Moderately challenging with significant ascents and descents. Hikers should wear sturdy walking shoes and bring a full water bottle and a packed lunch or hearty trail snacks.
Mysterious Spruce Hill is the world's largest Hopewell hilltop enclosure and one of only three such rare hilltops surrounded by a mounded wall of stone. Why did prehistoric hunter-gatherers build a low mounded wall of stone around such an enormous area, a 140 acre plateau, but never live or farm there? This is one of the questions that will be addressed in the guided hike which begins at the foot of Spruce Hill and ascends a gravel road through beautiful forested slopes to the remains of an entrance at the edge of the mesa. From there, the route proceeds through flat but uneven former farm fields to the isthmus at the far end of the plateau, where the best preserved section of the wall and gateways remains. Few guided hikes visit the isthmus because it is such a long hike from the parking lot. Additionally, Spruce Hill is not normally open to the public without a permit, so this is an uncommon opportunity to explore this flat-topped finger of stone that thrusts into the scenic Paint Valley.
Spruce Hill Preserve is owned by the Arc of Appalachia Preserve System, and co-managed with the National Park Service and the Ross County Parks District.
---
Monarch Butterfly Tagging
Date: Sunday, September 15, 2013
Thank you to the public for making this event a great success!
During the program, participants helped to capture and release monarch butterflies in order to tag and collect monitoring information. The information collected will be used to help determine migration flight patterns and timing, survival rates, weather influences on migration, and the overall population size of monarch butterflies. The program is being presented in conjunction with the University of Kansas Monarch Watch. Naturalists and qualified volunteers will also be on hand to assist with the tagging and recording process.
To learn more about the Monarch butterfly, view a video narrated by park Biological Technician, Constance Jones entitled "Monarch Chrysalis" by clicking here
---
Arts Afire
Mound City Summer Art Program
Experience Your National Park Through Art!

The 2013 Arts Afire season has concluded. Thank you to all of the familes that attended to make this year another success! Check back next spring when the 2014 schedule will be released.
---
Prehistoric Paddle on Paint Creek
During the summer, you can join a Park Ranger from Hopewell Culture National Historical Park for a guided paddle on Paint Creek! The 2013 tour season has ended, but check back in the spring when we will announce the schedule for the 2014 season.
Boaters begin the journey at Water's Edge Canoe Livery. You may bring your own boat or rent a Kayak or Canoe from the livery. From Water's Edge Canoe Livery boaters are shuttled to just north of Seip Earthwork to the shores of Paint Creek where the program begins. The tour is approximately 8 miles and will last from 3 hours to 5 hours, ending at Jones Levee bridge where boaters will be picked up and shuttled back to Water's Edge Canoe Livery. Boaters also have the option to paddle on 11 miles to Water's Edge Canoe Livery. Things to bring along: Sack Lunch, Water, Sunscreen and Bugspray
For more information, click here to visit the park page with future dates and contact information.
---
Junior Archeology Days
Junior Archeology Days have concluded for the 2013 season. Thank you to all who participated! It was a very successful year and we look forward to seeing you all again next year! Check back next spring for next seasons schedule. Dates: TBDTime each day: TBDArcheology provides a link to the past and a means to study to the people who came before us. Junior Archeologists are important people because they help archeologists take care of very special places. The Junior Archeologist program is an opportunity for children to learn about the archeology at Hopewell Culture National Historical Park and have fun at the same time!Children ages 5 -12 are invited to participate in this event. Children will be able to watch our 17-minute video, tour our museum, take a ranger-led mound tour, and participate in a mock dig to earn a Junior Archeologist badge! Parents or guardians are required to stay with their children.
________________________________________________________________________
The Robert L. Harness Lecture Series
Thursdays at 7:30 pm in June & JulyThe 2013 lecture series has concluded. Thank you to all who supported the lectures and attended. Please check back next spring when we announce the 2014 schedule.
__________________________________________________________________________
Did You Know?

The first publication of the Smithsonian Institution in 1848 was an extensive survey of archeology sites that included all of the sites at Hopewell Culture NHP. The book was authored by Ephraim Squier (left) and Edwin Davis (right), residents of the town of Chillicothe where Hopewell Culture NHP is located.