Special Events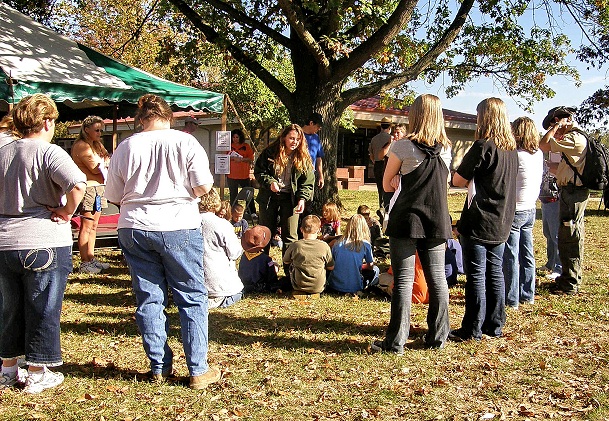 The park hosts special events throughout the year. These events include lectures on cultural and natural resources, site tours, and special activities for children. All programs are free and are open to visitors and groups of all ages. Events, unless otherwise noted, take place at the Mound City Group visitor center located at 16062 State Route 104, Chillicothe, OH 45601. If you have any questions or would like more information than what is listed below, please call (740)774-1126.
Park Calendar of Events
To view the calendar, click here.

---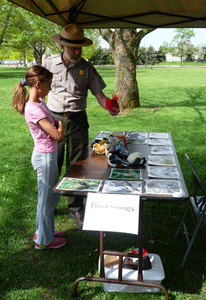 Bird Festival at Mound City Group
Saturday, May 18, 9:00 am - 12:00 pm

In conjuction with the Scioto Valley Bird & Nature Club, we are pleased to present our Bird Festival at the Mound City Group visitor center from 9 am to noon (rain or shine) on Saturday, May 18. The event is free of charge and activities are planned for all ages. Here's your chance to meet birds face-to-face! Activities will include a guided bird walk along the Scioto River at 9:00 am, and a falconer will fly and demonstrate his birds at 10 am. Educational and informative hand-outs by the Columbus Chapter of Wild Ones will be available and will cover the use of native plants and sustainable landscaping practices to attract birds and wildlife to your backyard. Other activities include bird house building and bird feeder making, nature-related games and displays and a book raffle! Please contact the park at (740) 774-1126 for additional information.

Archeology Workshop for Teachers
Monday - Friday, June 18 - June 21
Registration Deadline: Friday, May 31
Workshop limited to 20 participants
Teachers! Join us at Hopewell Culture National Historical Park for a week in the park learning about Ohio Prehistory, archeology, and ways to apply hands on techniques with your students. You will work side by side with park archeology and education staff. Spend an entire week in your local National Park while earning contact hours from Ohio University- Chillicothe. Download the registration form and sign-up today! Visit the Archeology Workshop for Teachers page to learn more about this exciting opportunity.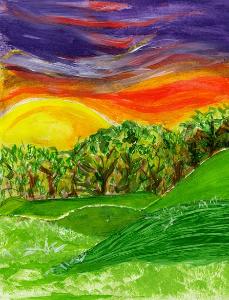 Summer Solstice Celebration
Friday, June 21

Celebrate the sun with family activities featuring our closest star!

To celebrate the start of the summer season and the magnificence of Mound City Group, Hopewell Culture National Historical Park is hosting a "Summer Solstice Celebration." Visitors of all ages are invited to join park rangers at the Mound City Group Visitor Center from 1:00 P.M. until 5:00 P.M. for hands-on activities. Evening activities will begin at 8:30 P.M. and will include watching the sunset alignment with Mound City Group's earthen wall. Feel free to bring along a flashlight, blanket and refreshments for the late evening events.
The Robert L. Harness Lecture Series
Thursdays at 7:30 pm in June & July

The Ohio Archeology 2013 Summer Lecture Series will begin in June and run through July. Lectures are Thursday evenings and begin at 7:30 pm in the Mound City Group visitor center. A schedule of speakers and titles will be available as soon as the schedule is confirmed. Whether you are a professional archeologist, or an armchair enthusiast the lecture series has something for everyone. Learn from experts in the many fields of archeology. Speakers and titles vary from year to year and always include visiting researchers conducting excavations in and around Ross County. This is your chance to ask questions and gain knowledge about many topics, including those pertaining to the Hopewell Culture.

Junior Archeology Days
Dates: Saturday, June 29, 2013
Thursday, July 11, 2013

Time: 10:00am - 12:00pm

Archeology provides a link to the past and a means to study to the people who came before us. Junior Archeologists are important people because they help archeologists take care of very special places. The Junior Archeologist program is an opportunity for children to learn about the archeology at Hopewell Culture National Historical Park and have fun at the same time!

Children ages 5 -12 are invited to participate in this event. Children will be able to watch our 17-minute video, tour our museum, take a ranger-led mound tour, and participate in a mock dig to earn a Junior Archeologist badge! Parents or guardians are required to stay with their children. Call the park at (740) 774-1126 for more information.



Summer Weekend Hiking Series

Come see the other earthworks of Hopewell Culture National Historical Park! On limited Saturday's and Sunday's throughout the summer, Park Rangers will lead tours of other sites managed by the park. Tours begin at 9am at each site and last two to three hours. Follow the schedule below:

Guided Walk at Seip Earthworks
Date: Sunday, June 9, 2013
Time: 9:00 - 11:00 am
Length: 2 miles
Difficulty Level: Easy, flat. Hikers should wear long pants, sturdy walking shoes and bring water.

Come walk the grounds of this ancient sacred area with a National Park Ranger to learn what archaeologists have discovered about the Hopewell culture through excavations here over the last century. Though little remains of the original earthen walls, the Seip-Pricer Mound is the largest restored Hopewell burial mound in existence. Walking the grounds of Seip Earthworks will give the visitor a sense of the enormity of this Hopewell endeavor. The route will lead participants to the base of Little Copperas Mountain, where the Paint Creek has carved a steep shale cliff in the side of this beautiful, hemlock shrouded hill.

Meet at Seip Mound on U.S. Rt. 50 near Paint Valley Local Schools, 2.5 mi. east of Bainbridge, 5 miles west of Bourneville.

Driving directions and the site bulletin for Seip Earthworks

Guided Walk at Hopeton Earthworks
Date: Saturday, July 16, 2013
Time: 9:00 - 11:00 am
Length: 1 mile
Difficulty Level: Easy, rolling terrain

Across the Scioto River from Mound City lies another mysterious earthwork of the ancient Hopewell Culture. Among the many enormous ceremonial sites built by Native Americans around the Chillicothe area, none is more intriguing than Hopeton Earthworks. This earthen complex is not yet open to the public, so this guided walk is an uncommon opportunity to explore one of the five units of Hopewell Culture National Historical Park.
Meet at the Hopeton Earthworks located at the 1100 block of Hopetown Rd. in Chillicothe.
Hopeton Earthworks is a 10 minute drive from the Mound City Group visitor center.

Driving directions for Hopeton Earthworks.
Hopewell Discovery Day
Saturday, October 12

Hopewell Discovery Day will include the ever popular artifact and fossil identification. Keep checking back for more updates!
Did You Know?

The first publication of the Smithsonian Institution in 1848 was an extensive survey of archeology sites that included all of the sites at Hopewell Culture NHP. The book was authored by Ephraim Squier (left) and Edwin Davis (right), residents of the town of Chillicothe where Hopewell Culture NHP is located.