Special Events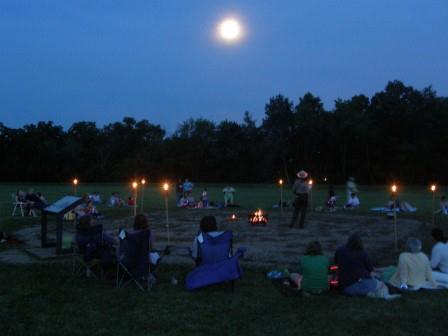 NPS/Tom Engberg
The park hosts special events throughout the year. This page features annual events at the park that include lectures on cultural and natural resources, commemoration events, and special activities for children. Most programs are fee free and are open to visitors and groups of all ages. If you have any questions or would like more information than what is listed below, please call (740)774-1126.
Park Calendar of Events
View the detailed Park Calendar and search for events based on dates.

Annually Occurring Park Events: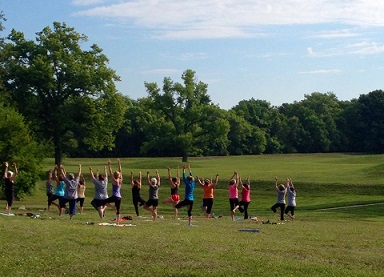 NPS / Susan Knisley
Free Yoga in the Park!
Dates: Saturdays in July, August & September
Time: 9:00 am
Where: Mound City Group Visitor Center
Join us at the Mound City Group Visitor Center on Saturdays at 9 a.m from July 17 - September 27 for free yoga with a certified yoga therapist. All fitness levels welcome! Bring your own yoga mat, blanket or towel and enjoy a beautiful morning in the park as you stretch the body, mind and spirit. If weather does not permit an outdoor class, we will gather in the visitor center auditorium. Classes last approximately 60 minutes. Yoga in the Park is a new program developed in support of the National Park Service's "Healthy Parks, Healthy People" initiative. Yoga in the park is made possible through partnerships with Terry Dunlap, owner of Living Balanced Yoga Studio and the YMCA of Ross County. For more detailed information and to sign up, call the Mound City Group Visitor Center: 740-774-1126.
---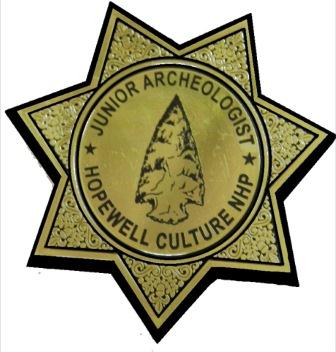 Junior Archeology Days
Dates: The 2014 season has concluded, check back in the spring for future dates
Time: 10:00am - 12:00pm
Where: Mound City Group visitor center

The Junior Archeologist program is an opportunity for children to learn about the archeology at Hopewell Culture National Historical Park and have fun at the same time!Children ages 5 -12 are invited to participate in this event. Children will be able to watch our 17-minute video, tour our museum, take a ranger-led mound tour, and participate in a mock dig to earn a Junior Archeologist badge!
Parents and/or Guardians, Please Note; you will be required to stay with your children during the entire program.
---
Photo courtesy of the Ohio Historical Society
Remembering Camp Sherman:
A Commemoration of Chillicothe's Contribution to World War I
Date: November TBD, 2014
Time: TBD
Where: Mound City Group Visitor Center

Join Hopewell Culture National Historical Park in commemorating Camp Sherman. Come and view artifacts and historic footage from this WWI training camp, which trained nearly 120,000 soldiers for battle.
"Camp Sherman: In Retrospect" is an audiotape and slide show presentation that was first produced in 1982 from oral history interviews that were recorded with 16 individuals who had direct experience with America's third-largest Army training base during World War I. The National Park Service production was recently converted into a digital format for new generations of viewers and listeners. The program lasts about 42 minutes and will be screened regularly on a large dedicated computer monitor throughout the event. A separate computer will be made available for visitors who wish to search a database for records of relatives who may have served at the military base. Camp Sherman artifacts and film footage will be on display each day.
To learn more about the history of Camp Sherman, visit the Camp Sherman page.
---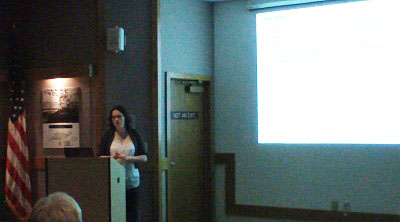 NPS / Tom Engberg
The Robert L. Harness Lecture Series
Date: Thursdays in June & July
Time: 7:30 pm
Where: Mound City Group visitor center
Whether you are a professional archeologist, an armchair enthusiast, or just interested in archeology the lecture series has something for everyone.Learn from experts in the many fields of archeology.Speakers and titles vary from year to year and always include visiting researchers conducting excavations in and around Ross County. This is your chance to ask questions and gain knowledge about many topics, including those pertaining to the Hopewell Culture.
---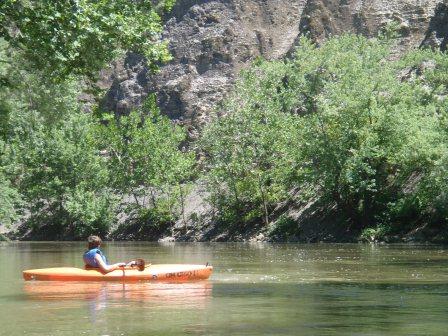 NPS / Brandi Nunnelee
Prehistoric Paddle on Paint Creek
Dates: Thursdays in June, July and August
Time: 10:00 am
Where: Meet @ Water's Edge Canoe Livery
Fees: Canoe/Kayak rental or bus shuttle fee apply *
During the summer, you can join a Park Ranger from Hopewell Culture National Historical Park for a guided paddle on Paint Creek!
Boaters begin the journey at Water's Edge Canoe Livery. You may bring your own boat or rent a Kayak or Canoe from the livery. From Water's Edge Canoe Livery boaters are shuttled to just north of Seip Earthwork to the shores of Paint Creek where the program begins. The tour is approximately 8 miles and will last from 3 hours to 5 hours, ending at Jones Levee bridge where boaters will be picked up and shuttled back to Water's Edge Canoe Livery. Boaters also have the option to paddle on 11 miles to Water's Edge Canoe Livery. Things to bring along: Sack Lunch, Water, Sunscreen and Bugspray
* For more information, visit the park Canoe/Kayak Page for rental / bus shuttle fees info, dates and contact information.

---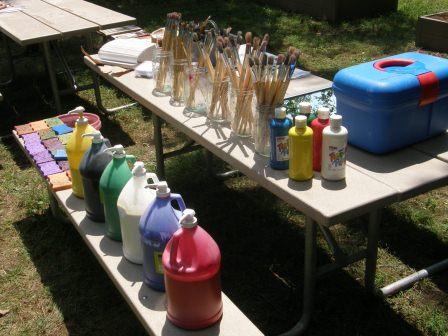 NPS / Susan Knisley
Arts Afire - Mound City Summer Art Program
Experience Your National Park Through Art!
Join us at Mound City Group in July for our annual summer art program. Throughout the program students will learn about famous artists, art styles, and art techniques, all while making connections to history and nature.
All supplies will be provided. Admission is free! The program will be available Tuesday's in July.
Please call one week in advance to make reservations at 740-774-1126.
Please Note: Students must be accompanied by an adult during the entire program.
Sign-up for a program according to the age of your child:

Dates: Tuesdays in July

Time: Ages 5-8, 10:00am - 12:00pm
Ages 9-12, 2:00pm - 4:00pm

Where: Mound City Group visitor center
---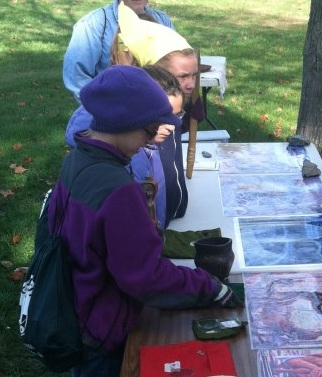 NPS Photo
Hopewell Discovery Day

Date: TBD
Where: Mound City Group Visitor Center
Admission: FREE to all!
Hopewell Discovery Day is a FREE day of activities dedicated to learning about the science of archeology and understanding the Hopewell culture. Enjoy this exciting day of discovery and uncover the mysteries of the Hopewell culture.
---
Did You Know?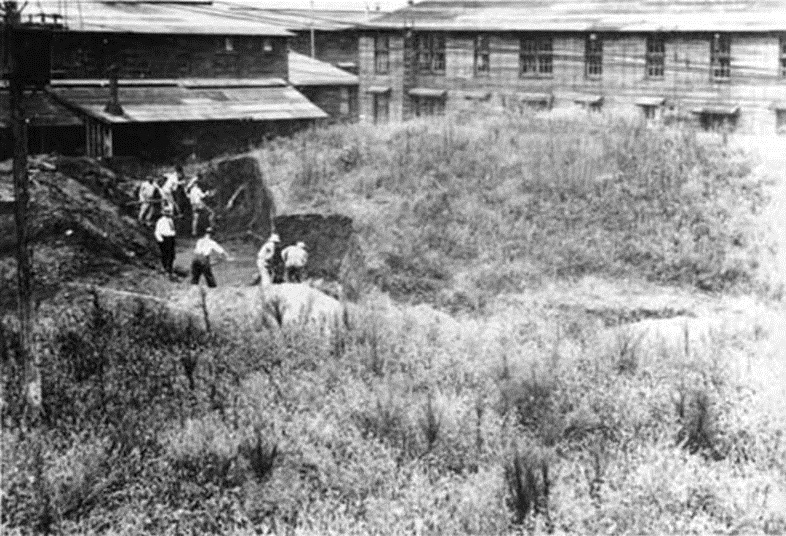 Camp Sherman, a World War I training camp, was located in part at Mound City Group. Most of the mounds were significantly impacted. During construction of the cantonment, a new barrack was erected every 20 minutes. More...