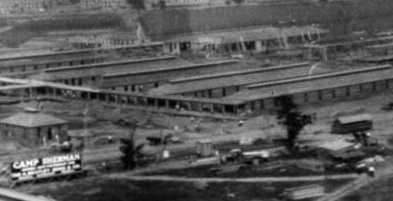 Photo courtesy of the Ohio Historical Society
Remembering Camp Sherman:
A Commemoration of Chillicothe's Contribution to World War I
Date: November - Veterans Day Weekend
Time: During regular visitor center hours, 8:30am - 5:00pm
Location: Mound City Group Visitor Center

Hopewell Culture National Historical Park invites the public to Remembering Camp Sherman, a special exhibit in honor of Veterans Day.

Remembering Camp Sherman showcases World War I memorabilia and historic footage from Camp Sherman, where 120,000 soldiers trained from 1917 until the camp's decommissioning in 1921. Camp Sherman was one of 16 regional training centers established by the United States government during World War I and the third largest in the country.
Camp Sherman memorabilia and film footage will be on display each day. Visitors can view a 42 minute narrated slideshow, Camp Sherman: In Retrospect, featuring historic photos and oral history recordings from 16 individuals who had direct experience with Camp Sherman. This year's exhibit will also feature the story of Anna Coleman Ladd, an American sculptor who dedicated her time throughout World War I sculpting prosthetics from galvanized copper for soldiers who were disfigured during combat.
Join us to honor veterans and commemorate Chillicothe's contribution to World War I through this special exhibit. This event will be held in the auditorium at the Mound City Group Visitor Center, located three miles north of Chillicothe on State Rt. 104.

To learn more about the history of Camp Sherman, visit the Camp Sherman page.
---