Multimedia Presentations
Videos
To download the first two videos, "RIGHT CLICK" a link and select "SAVE TARGET (or LINK) AS" from the available menu options.
For the Hopewell Pottery Discovery video, click the picture to view the video. The clip will load on your screen and play. Allow a minute or two for clip to load. To download and save the clip, right click the file name under "Download Original File:" and select "SAVE TARGET (or LINK) AS" and save to your location of choice.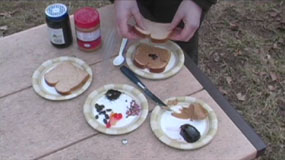 Peanut Butter & Jelly Archeology
(Time 07:18)
Join Park Ranger Susan Knisley as she demonstrates one of the more popular lesson plans from Hopewell Culture's curriculum guide, "Expeditions Into Ohio's Past."
Shriver Circle Geophysical Survey
(Time 06:10)
Watch archeological consultant Jarrod Burks use a sophisticated electronic geophysical instrument to relocate a prehistoric earthwork last mapped by Squier and Davis more than 150 years ago.
Here is part of an August 2013 excavation on the "North 40" site of the Mound City Group.  A startling discovery at this dig site got everybody at the park buzzing with excitement.  Here's your chance to see the video footage of the artifact that's been causing the stir.

Duration:

1 minute, 36 seconds

Credit/ Author:

NPS/Tom Engberg

Date created:

2013-08-08
"How do we know what we know about the Hopewell?"  Many wonder about how we learn about this mysterious culture of people we know as the Hopewell.  Join us as we look into how we learn about these prehistoric Native Americans and answer the question "how do we know?"

Duration:

14 minutes, 23 seconds

Credit/ Author:

NPS/Tom Engberg & Trina Strausbaugh

Date created:

2013-09-09
Check out the video of a hungry caterpillar who was roaming around, munching on mildweed plants at the Mound City Group. Thanks to Biological Technician, Constance Jones, who provided a quick overview of the monarch caterpillar lifecycle.

Duration:

32 seconds

Credit/ Author:

NPS/Tom Engberg & Constance Jones

Date created:

2013-01-01
Games & Trivia
To download the trivia bee, "RIGHT CLICK" a link and select "SAVE TARGET AS" from the available menu options.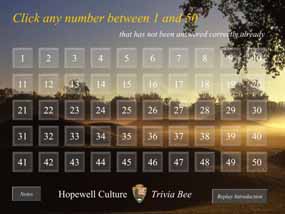 Hopewell Culture Trivia Bee
This computer quiz game asks 50 multiple-choice questions about Hopewell Culture's rich history. It is presented in PowerPoint, so most players won't need special equipment, software or instructions to get started. A separate, printable tally sheet is provided so that players can keep track of questions that they have answered correctly. While the game doesn't keep score or track mistakes, that doesn't preclude players from making up their own way of determining winners and losers. It can be played alone or as a group activity, especially if large-screen projection equipment is available.
Did You Know?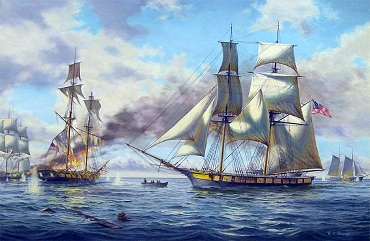 British soldiers captured during the Battle of Lake Erie during the War of 1812 were marched to a prisoner of war camp (Camp Bull) located between the present day Mound City Group visitor center, and the northern part of the city of Chillicothe. More...