Getting Ready for 2016
The National Park Service turns 100 on August 25, 2016. To us, it's not about cakes and candles — it's about being an organization ready to take on the challenges of our second century. Our blueprint to get there — A Call to Action — outlines the innovative work we want to accomplish. Hopewell Culture National Historical Park is a big part of this effort. Take a look at what we're doing locally and get involved!
Students from New Albany Middle School were awarded a "Ticket to Ride" to Hopewell Culture National Historical Park following an in depth National Park Service project completed in the classroom. With their chaperones, 300 8th grade students were immersed in hands-on science, art, living history interpretation, and habitat restoration during their park visit on May 10th. The goal of the visit was to transform student ideas into park experiences for youth. Read more
Did You Know?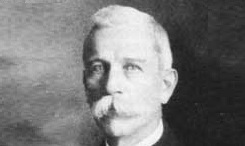 The term "Hopewell" derives from the farm where excavations of an earthwork site (Hopewell Mound Group) occurred in 1891-1892 under the direction of Warren K. Moorehead. The property was owned by a local dry goods merchant and former Confederate Army soldier, Mordecai Cloud Hopewell.