Isolated Slick Patches

Recent snowfall has created isolated slick spots throughout the park. Please use caution when visiting Mound City Group, Hopewell Mound Group and/or Seip Earthworks as isolated icy conditions may exist on sidewalks, trails and parking lots. More »
Teacher Workshops
Archeology Workshop for Teachers
If you've been looking for new ideas to engage your students or have been in search for a new way to challenge your teaching style, then consider joining us at Hopewell Culture National Historical Park for a week in the summer. During our annual Archeology Workshop for Teachers, you will learn about archeology and ways to apply hands on techniques with your students. You'll work side by side with park archeology staff and education staff. And you get to spend a whole week in your local National Park while earning contact hours from Ohio University- Chillicothe!
Workshop Activities and Important Information:
Discussions with park archeology and education staff about Ohio's human past, archeology basics, and teaching the past
Hands-on archeology, including excavation and mapping
Tour local archeology sites
Free teaching materials
This workshop is open to school teachers of all grade levels.
Cost of this workshop is FREE!
No lodging is available
Teachers who complete the workshop will receive a certificate for 35 contact hours from Ohio University-Chillicothe
Graduate credit hours available
Workshop is limited to 20 participants
2013 Archeology Workshop for Teachers
The 2013 Archeology Workshop has ended, but we'll soon be busy planning for next year's session. For additional information, call the visitor center at 740-774-1126 or send us an email. Download a flyer and tell your friends about this amazing opportunity!
Thanks to all those who participated for making this year's workshop a tremendous success!!
Click here to see a variety of photos from the 2013 Archeology Workshop in the park photo gallery..

Did You Know?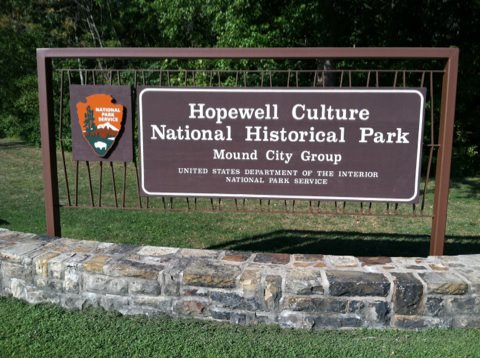 Established on March 2nd, 1923 as Mound City Group National Monument, the park was the first federally created National Park Service site in Ohio. President Warren G. Harding, a native of Ohio, established the national monument using powers granted to him under Section 2 of the 1906 Antiquities Act. The park was eventually re-named Hopewell Culture National Historical Park on May 27th, 1992 after congressional legislation was approved in the House and the Senate. More...