Digging in the Dirt
About This Blog
Archeological research continues to be a big part of the mission of Hopewell Culture National Historical Park. Archeological staff from Hopewell Culture NHP, staff from the National Park Services' Midwest Archeological Center and other professionals in the field of archeology conduct research every year so that we can learn more about this mysterious culture. Along with these professionals, the park continually employs students who have decided to pursue a career in this rewarding field. Follow this blog to read about some of the stories from these dedicated interns who have been chosen to work alongside some of the best in the profession.
Here are the folks doing all the dirty work this summer!
Hi kids! My name is Cailey Mullins, and I'm an archeological intern at Hopewell Culture National Historical Park. That's basically a fancy term for someone who plays in the dirt to learn! I'd like to tell you a little about my field, and how you can be involved - either here at the park or even in your own backyard!
My name is Cailey Mullins, and I'm an intern here at Hopewell Culture this summer. For the first seven weeks of my internship, I worked out in the field doing archaeology with the park. As a future archaeologist, what I've learned here will benefit me for the rest of my life. This blog will talk about what I've done at the park this summer, and teach a little about the basics of my field.
Did You Know?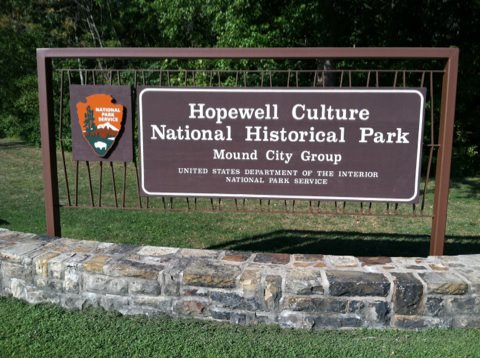 Established on March 2nd, 1923 as Mound City Group National Monument, the park was the first federally created National Park Service site in Ohio. President Warren G. Harding, a native of Ohio, established the national monument using powers granted to him under Section 2 of the 1906 Antiquities Act. The park was eventually re-named Hopewell Culture National Historical Park on May 27th, 1992 after congressional legislation was approved in the House and the Senate. More...