"The scenery of the prairie is striking and never fails to cause an exclamation of surprise... the flowers are beautiful; the absence of shade and... profusion of light produce a gaiety which animates the beholder."
Judge James Hall, ca. 1839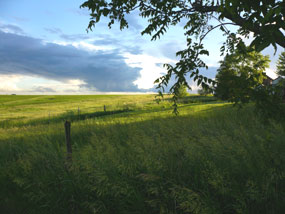 NPS Photo
Reconstructed Prairie
The National Park Service reconstructed a tallgrass prairie in 1971 to represent the vast grassland that once covered 85 percent of Iowa. The park planted five species of grasses on land that had been farm fields for more than a century.
Visitors to the prairie can imagine the pioneers crossing over land where mothers feared they could lose their small children in the 6 to 12 foot tall maze of grasses. A trail map (PDF file) guides visitors through this 81-acre sea of tall grasses and spectacular flowering forbs. A prairie garden (PDF file) at the visitor center has examples of tallgrass prairie plants. Teachers can prepare their classes for a visit to the prairie with lesson plans and activities.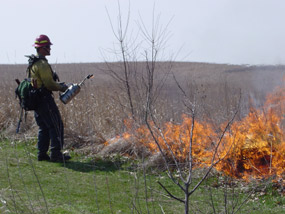 NPS Photo
Prairie Management
The National Park Service uses many techniques to continue the reconstruction of the prairie. "Overseeding" adds native plant seeds into the existing vegetation, while mowing, hand-removal, herbicides, and prescribed fire remove nonnative species or give the native ones a chance to thrive. Volunteers often help park staff with the manual removal of woody plants and invasive weeds from the grassland. The park's prairie management plan (PDF file) outlines strategies for managing the restored tallgrass prairie. Scientific research helps park managers evaluate the reconstruction and maintenance techniques by measuring the overall health of the prairie.
Prescribed Fire
Historically, tallgrass prairies experienced repeated natural fires every five to ten years. These fires were frequent and of low severity, eliminating most of the young woody species that had established since the previous fire and rejuvenating perennial grasses and forbs. A fire management plan (PDF file) allows the park to manage the prairie reconstruction in the most effective and efficient manner, which includes the scientific use of prescribed fire.