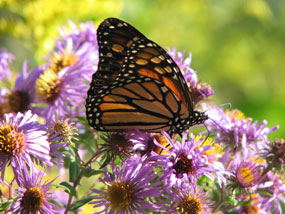 NPS Photo
Herbert Hoover National Historic Site provides an island of wildlife habitat, surrounded by a rural city and agricultural land. Scientific inventories of animal species in the park revealed no amphibians and few fish, but reptiles, mammals, and birds abound. Colorful meadowlarks, bluebirds, dickcissels, and grasshopper sparrows spend their breeding season in the tallgrass prairie. Some of the smallest animals that depend on the prairie include butterflies, moths, bees, and other uniquely adapted insects.
Birds
The park is on the Mississippi flyway, a major bird migration route. Many species rest and take refuge in the park's reconstructed tallgrass prairie and along its quiet stream. More »
Fish
Herbert Hoover acquired his lifelong love of fishing in the creeks of his home town. He even authored a book, Fishing for Fun in which he wrote, "All men are equal before fish."
Fishes occur in Hoover Creek when the flow is stable. Visitors commonly see minnows like creek chub. Scientific inventories and monitoring of fish species help park managers gauge the creek's health. Download an inventory of fish species found in Hoover Creek »
Mammals
Whitetail deer and coyotes along with smaller animals common to towns and rural areas, like foxes, skunks, and bats, abound in the park. More »
Reptiles
The wet meadow and creek provide habitat for at least four species of snake: fox, Dekay's brown, plains garter, and common garter. Additionally, western ribbon snake, rat snake, and bull snake have been observed in drier areas of the prairie. Download an inventory of reptiles and amphibians »