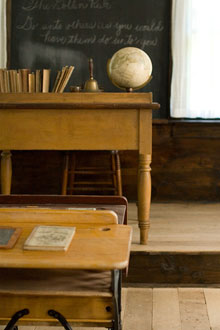 Linda Staats
Miss Lizzie Chandler taught Bertie Hoover for first and second grade. Each day, her blackboard was filled with lessons of arithmetic and spelling. No computers or overhead projectors here. Students shared reading books, and practiced penmanship on slate chalkboards, like the ones sitting on these desktops.

The only source of heat in this schoolhouse came from a pot-bellied wood stove located at the back of the room. In the winter, you can imagine that depending on where you sat, you might be sweating or freezing! The eight large windows let in lots of natural light, but on cloudy days, it was the kerosene lamps that helped to brighten the room.
Familiar portraits of George Washington and Abraham Lincoln, the country's first and sixteenth Presidents hung on the wall. Little did Miss Lizzie Chandler know that in less than 50 years, Bertie Hoover would add his name to that distinguished list when he was elected the 31st President of the United States of America.