By 1853, enough settlers lived in West Branch to support and build a public school. Hard work was a core value of the Quaker faith, but so too, was the importance of education for both boys and girls—Herbert Hoover's own mother, Hulda had been a teacher before she married. Because the Society of Friends raised much of the money for the construction of this one-room schoolhouse, it was also used as the first Quaker meetinghouse, which might explain its simple, unadorned architecture.

Linda Staats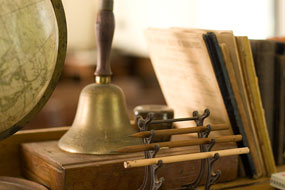 Linda Staats
Originally located at the corner of Main and Downey streets, the school was sold and moved several times before its final relocation here in 1968. While it is unknown if Hoover attended school in this building, it is the oldest building at Herbert Hoover National Historic Site.
When 5-year old Herbert "Bertie" Hoover started primary school in 1879, he was following in the footsteps of his big brother, eight-year old "Tad." Mornings were greeted with the ringing of the school bell and the activity of hanging coats and hats on the cloak room hooks just inside the doorway. As you step inside, you'll find a classroom restored to the time of Hoover's youth. Double-seated wooden desks trimmed in cast iron vary in size from large to small. Did you notice the ones directly in front of the teacher's desk? Children sat here when it was time to recite their lessons.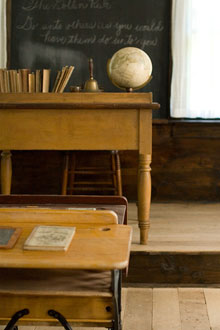 Linda Staats
Miss Lizzie Chandler taught Bertie Hoover for first and second grade. Each day, her blackboard was filled with lessons of arithmetic and spelling. No computers or overhead projectors here. Students shared reading books, and practiced penmanship on slate chalkboards, like the ones sitting on these desktops.

The only source of heat in this schoolhouse came from a pot-bellied wood stove located at the back of the room. In the winter, you can imagine that depending on where you sat, you might be sweating or freezing! The eight large windows let in lots of natural light, but on cloudy days, it was the kerosene lamps that helped to brighten the room.
Familiar portraits of George Washington and Abraham Lincoln, the country's first and sixteenth Presidents hung on the wall. Little did Miss Lizzie Chandler know that in less than 50 years, Bertie Hoover would add his name to that distinguished list when he was elected the 31st President of the United States of America.
The importance Herbert Hoover's family placed on education included planning for college. Find out more »

Audio Tour Stop 120: Schoolhouse (2:22)

By 1853, enough settlers lived in West Branch to support and build a public school.

Duration:

2 minutes, 22 seconds

Credit/ Author:

NPS

Date created:

2010-06-22
Take a Virtual Tour
This is a stop on the virtual tour of Herbert Hoover National Historic Site.



Friends Meetinghouse

The Friends Meetinghouse expresses the values of the Quakers as practiced by the Hoover family. Read More

Hulda Hoover

Herbert Hoover's mother Hulda raised three children as a widow and spoke at local Quaker meetings. Read More

Hoover's Higher Education

In 1891, 17-year old Bert Hoover enrolled in Stanford determined to become a mining engineer. Read More