Herbert Hoover's
experience living in a rural environment during early childhood shaped his interest in the natural world. It influenced his choice of career and the recreational activities he pursued throughout his life.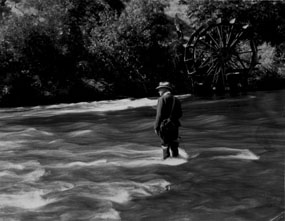 Herbert Hoover Presidential Library and Museum
Quaker values and beliefs recognize "God's creation" as beauty, demonstrated in the park through the cultural landscape features and the proximity of the Tallgrass Prairie to the Gravesite. Living the philosophy of "waste not, want not," the rural lifestyle required the wise use of resources at hand. Humble beginnings created within him a connection to nature and natural resources, which influenced his choice of career and recreation, and made him look to the natural processes for solutions to poverty and hunger. This spirit was exemplified by his promotion of "Victory Gardens" during the First World War.
Hoover's boyhood activities and natural pursuits led to a lifelong appreciation of outdoor recreation and conservation. During his presidency, Hoover added 3 million acres to the National Park Service (expanding it by 40%), oversaw the National Park Service Reorganization of 1933, and added 2.3 million acres to the U.S. Forest Service.