Herbert Hoover's National Parks
During Herbert Hoover's presidency from 1929 to 1933, the size of our national forests expanded by more than two million acres, and the land designated for new national parks and monuments increased by 40 percent. Hoover's administration added and expanded numerous national parks. It also carried on work to develop national parks that were completed later, like Mammoth Cave, Great Smoky Mountains, Shenandoah, and Everglades.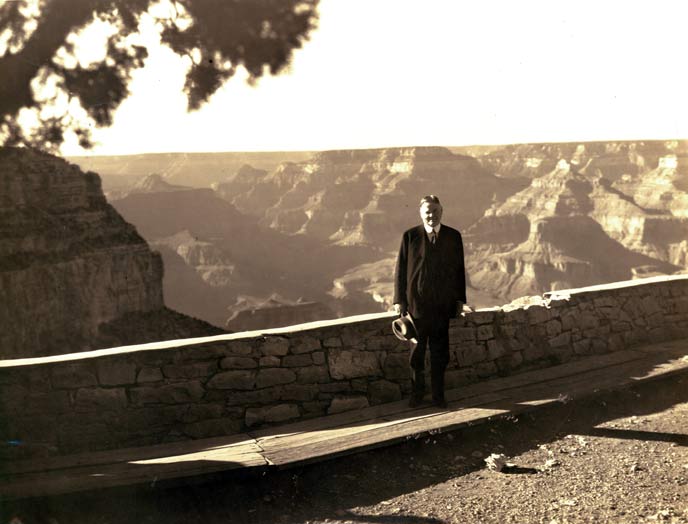 Herbert Hoover Presidential Library and Museum
National Parks Established by President Herbert Hoover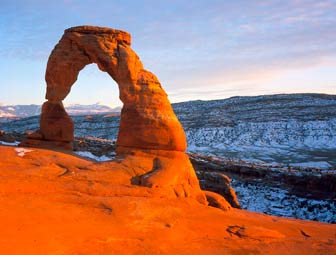 NPS Photo
The National Parks established by the Hoover administration are:
Arches National Monument, Utah (renamed Arches National Park in 1971), on April 12, 1929
Holy Cross National Monument, Colorado (abolished in 1950), on May 11, 1929
George Washington Birthplace National Monument, Virginia, on Jan. 23, 1930

Sunset Crater National Monument (renamed Sunset Crater Volcano National Monument in 1990), on May 26, 1930

George Washington Memorial Parkway, Virginia, Maryland, and District of Columbia, on May 29, 1930

Appomattox Battlefield Site, Virginia (designated a National Monument in 1935, redesignated as a Appomattox Courthouse National Historical Park in 1954), on June 18, 1930
Colonial National Monument, Virginia (Redesignated Colonial National Historical Park in 1936), on July 3, 1930
Canyon de Chelly National Monument, Arizona, on February 14, 1931
Isle Royale National Park, Michigan, on March 3, 1931
Fort Necessity National Battlefield Site, Pennsylvania (redesignated Fort Necessity National Battlefield in 1961), on March 4, 1931
Kings Mountain National Military Park, South Carolina, on March 4, 1931
Second Grand Canyon National Monument, Arizona (incorporated in Grand Canyon National Park in 1975), on December 22, 1931
Great Sand Dunes National Monument, Colorado (Redesignated Great Sand Dunes National Park in 2000), on March 17, 1932
Theodore Roosevelt Island, District of Columbia, on May 21, 1932
White Sands National Monument, New Mexico, on Jan. 18, 1933
Death Valley National Monument, California and Nevada (incorporated in Death Valley National Park in 1994), February 11, 1933
Saguaro National Monument, Arizona (redesignated Saguaro National Park in 1994), on March 1, 1933
Black Canyon of the Gunnison National Monument, Colorado (redesignated Black Canyon of the Gunnison National Park in 1999), on March 2, 1933
Morristown National Historical Park, New Jersey, on March 2, 1933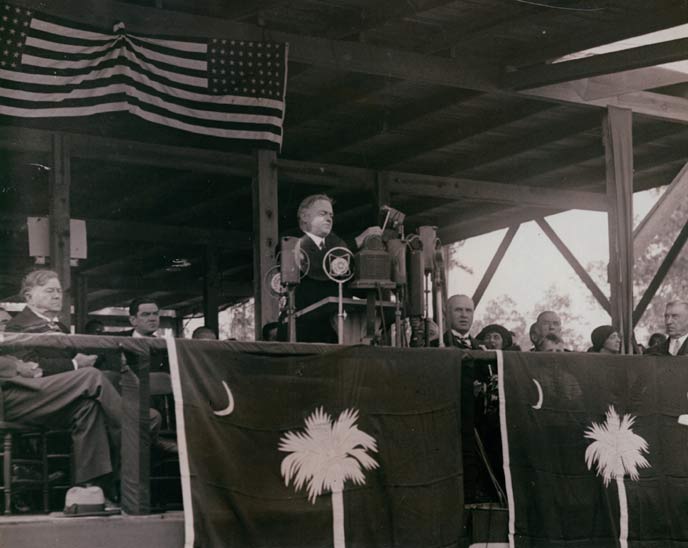 Herbert Hoover Presidential Library and Museum
NPS Photo
In 1932, after approval in the US Congress and Canada's Parliament, Hoover proclaimed
Waterton-Glacier International Peace Park
, a merger of two adjacent Rocky Mountain parks on each side of the U.S.-Canada border.
Glacier and Waterton Lakes national parks are administered by the US and Canada, respectively. International cooperation helps manage the shared watershed and wildlife corridor.
In 1932 President Hoover transferred Bandelier National Monument, New Mexico, into the national park system from the Agriculture Department.
Two parks are in some sources erroneously attributed to the Hoover administration: Badlands National Monument (renamed Badlands National Park in 1978) and Cowpens National Battlefield Site (redesignated Cowpens National Battlefield in 1972). Both were authorized or established on Hoover's inauguration date, March 4, 1929, but by Calvin Coolidge during his final hours in office.
National Parks Enlarged By President Herbert Hoover
By proclamation or executive order, President Hoover added to the lands of the following national parks:
Aztec Ruins
Bandelier
Bryce Canyon
Carlsbad
Craters of the Moon
Hot Springs
Katmai
Pinnacles
Rocky Mountain
Scotts Bluff
Yellowstone
Yosemite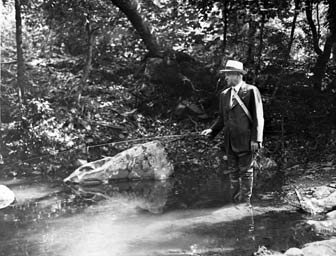 Herbert Hoover Presidential Library and Museum
Aside from his official actions, Herbert Hoover made a personal contribution to a national park. Every president needs a place to escape from the cares and burdens of office. For the Hoovers that place was Camp Rapidan, a rustic fishing camp located one hundred miles from Washington in Virginia's scenic Blue Ridge Mountain range and built with $120,000 of the president's own money. Those who visited the camp saw a very different man from the harried executive whose days were blighted by economic crisis. At Rapidan, Hoover could discard the formal gear of Washington for white flannels and a Panama hat. He pitched horseshoes with Charles Lindbergh and, sitting on a log with a British Prime Minister, made plans for a world disarmament conference to be held in London in 1930.
The Hoovers donated their mountain retreat to become part of the new Shenandoah National Park after he left the White House in 1933.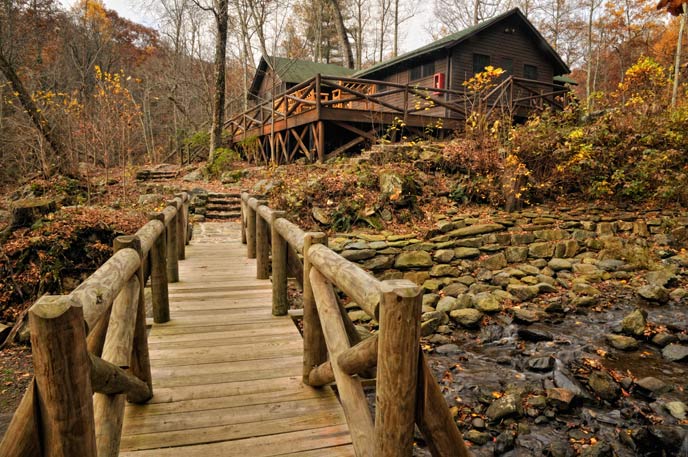 NPS Photo
After Herbert Hoover's Presidency
In his post-presidential years, Hoover devoted much time and energy to his legacy and defending his record as president. In 1938, President Hoover and his wife purchased the house where he was born in 1874. His local supporters restored the home and, under the guidance of the president and his family, developed a park around it. The park commemorates Herbert Hoover and his rise from simple beginnings to the presidency of the United States. It became a national park— Herbert Hoover National Historic Site— in 1965, one year after the president's death.
After his presidency, Hoover influenced the protection of Grand Teton and Dinosaur national parks.