Considering Herbert Hoover's Quaker upbringing, you might be wondering why there is a statue of Isis, "the Egyptian goddess of Life", sitting on the grounds of his birthplace. This bronze, seven and a half foot tall statue is the work of Belgian sculptor Auguste Puttemans, and was a gift from the children, refugees, and soldiers of Belgium in gratitude for Hoover's famine relief efforts on their behalf during the First World War.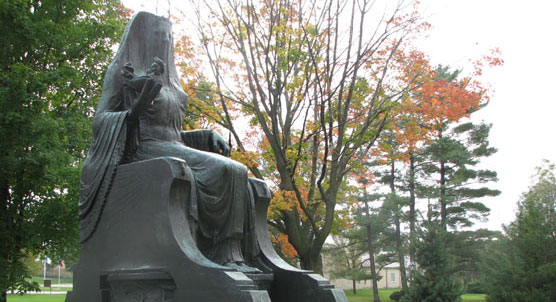 NPS PHOTO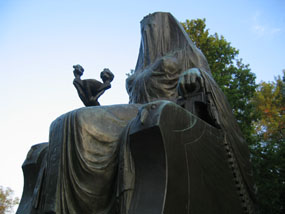 NPS photo
When the Belgians shipped the finished statue to California's Stanford University in 1922, it remained on campus until the President and
Mrs. Hoover
brought it to West Branch in 1939. Both of them wanted it to be placed in a position where it was "contemplating the house," which is why Isis sits in her throne-like chair facing the
Birthplace Cottage
.
Look closely, and you'll notice that her veil, a symbol of the mysteries of life, cannot hide the strength of her features. Her right hand carries the torch of life-its three flames represent the past, present, and future-while her left hand holds the key of life.
An Egyptian goddess and an American President. It's an unlikely pairing, but one that provides a powerful visual link between Hoover's childhood and his life's dedication to the welfare of others. Find out more about Hoover's dedication to children's causes »
Audio Tour Stop 125: Statue of Isis (1:20)

Considering Herbert Hoover's Quaker upbringing, you might be wondering why there is a statue of the Egyptian goddess of Life sitting on the grounds of his birthplace.

Duration:

1 minute, 21 seconds

Credit/ Author:

NPS

Date created:

2010-06-22


Birthplace Cottage Restoration

Restoration began in the summer of 1938, with the removal of a two-story addition built in 1890. Read More

Artist-in-Residence Program

Artists share their vision of the historic site. About the program, artists, and how to apply. Read More

Cultural Landscape

If you designed a park to commemorate your life, what would you like future generations to know? Read More