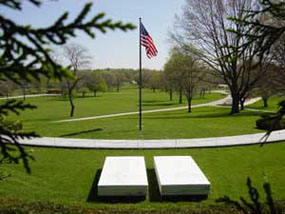 NPS Photo
Iowa architect William Wagner designed the memorial while working closely with the Hoover family to commemorate his life. The two plainly inscribed ledger stones of Vermont white marble are in keeping with the Quaker ideal of simplicity. Across the curved walkway, the American flag waves in tribute. Did you know that it was Herbert Hoover who signed the congressional resolution making The Star Spangled Banner the national anthem during his Presidency?
Past the towering flagpole, on the horizon at the end of the two rows of trees, is a direct view of the white, wood-frame cottage where Herbert "Bertie" Hoover was born. As the first President born west of the Mississippi River, Hoover believed that anyone could start from simple beginnings and achieve great things.
Pete Hoover, Herbert Hoover's grandson, reflected on the qualities that not only made his grandfather so successful, but encouraged the success of others:
"Granddad was an interesting guy to be around. There was not a subject that you could raise that he couldn't contribute something on. He never commandeered the conversation. He could contribute to it and do it in an unobtrusive way so that people would understand and learn a little maybe."
The second marble gravestone is for Lou Henry Hoover, the tireless and intelligent First Lady from Waterloo, Iowa. Following her death in 1944, she was buried in Palo Alto, California, but was moved to rest beside her husband in 1964. Partners in life for almost forty-five years, they had both come back to touch the Iowa soil.