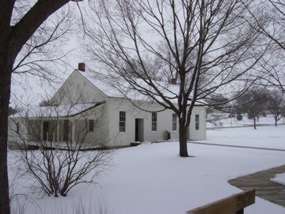 NPS Photo
Ruthie Tippin, pastor of the West Branch Friends Church, says of the historic Meetinghouse:
"The first thing that you notice is how simple it is. The simplicity of the meeting room was intentional, the way it's laid out, the lack of ornamentation, the clarity of it, and that was to allow absolutely nothing to distract one from the presence of God. And that had a great impact on Herbert Hoover, and all others who worship as Friends."
Two meetings for worship were held each week, on First Day, Sunday, and Fourth Day, Wednesday. Quakers used numbers to mark their days and months because they didn't believe in the mythological gods whose names were used in Roman calendars – like March – named for Mars, the god of war.
What Quakers did believe in according to Pastor Tippin was the concept of the Inner Light being present in every human soul. "Friends started out without a pastor," she says, "and then, this division came between those who were satisfied and loved the sense of quiet waiting, against those who felt like there was something more to be had in a pastoral setting."
When Hoover was a child, there were no paid ministers. For 60 to 90 minutes, without benefit of music, or sacraments, the congregation would sit on the rows of long wooden benches. Find out how long you can sit still for. Just like in the 1870s: women and girls on the left, and men and boys to the right.
Who sat in the reraised benches at the front of the room? Pastor Tippin says, "So the elders—the ministry and oversight—would sit on the facing benches and they would sit in silence waiting, just waiting to see what God would do—what God would say—through the membership."
As the spirit moved them, people rose and spoke spontaneously. When there seemed to be no more messages, the elders rose, shook hands, and the meeting ended. Aware of how their actions might affect the world around them, the Friends tried earnestly to live lives that honored their commitments to love, integrity, equality, and peace. Those testimonies that Herbert Hoover experienced here as a child, instilled in him a drive to become a successful leader and one of the world's great humanitarians.
Women, including Herbert's mother Hulda, played an important role in the Quaker meeting. Find out more »