Friends Meetinghouse Cry Room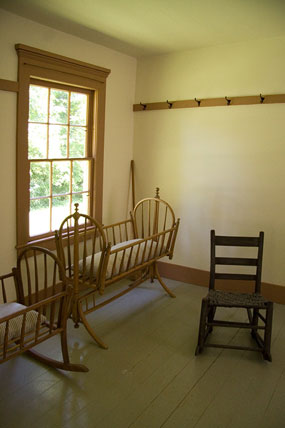 Linda Staats
This small addition to the Friends Meetinghouse was the "retiring room" or what many would call today, "the crying room." Here, women could bring restless or hungry infants and avoid disturbing the congregation. Ruthie Tippin, pastor of the West Branch Friends Church, says:
"Children came from the time they were born, and were introduced to meeting for worship right away-they were babes in arms," "And as they came to meeting, they would sit with their mothers, on the women's side of the meeting house, and if they were crying or disturbing others, the mother would have taken them out to the nursery area. But by and large, they remained in the meeting room.

When they got of a certain age the boys would move over to sit with their fathers, and brothers, and grandfathers on the men's side of the meeting. But they were instructed in the ways to behave simply by watching the folk around them, and they were taught that this was a time not to just sit, but to sit in silence - an expectant silence. And that's a very hard thing for a young, squirmy child to learn, but over time they began this understanding of waiting."
For Herbert Hoover, those times made a lasting impression on the future President:
"Those acquainted with the Quaker faith, and who know the primitive furnishings of the Quaker meetinghouse, the solemnity of the long hours of meeting awaiting the spirit to move someone, will know the intense repression upon a ten-year old boy who might not even count his toes. All this may not have been recreation, but it was strong training in patience."

Audio Tour Stop 123: Friends Meetinghouse Cry Room (1:45)

This small addition to the Friends Meetinghouse was the "retiring room" or what many would call today, "the crying room."

Duration:

1 minute, 46 seconds

Credit/ Author:

NPS

Date created:

2010-06-22

Download Original File: