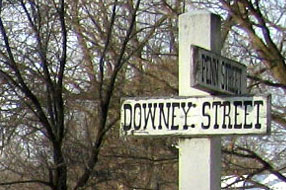 NPS Photo
In 1870, the U.S. census counted Iowa's population at almost 1.2 million. The towns and farms that now covered the state had, within a single generation, replaced the traditional American Indian uses of the land.
Herbert Hoover's
grandfather, Eli Hoover, was one of the first few settlers of West Branch, arriving by covered wagon in 1854. When the census takers came sixteen years later, the town's population stood at about 200. But the railroad's arrival in West Branch that same year helped the town's rapid expansion into a thriving agricultural and business centered community. (The railroad was also indirectly responsible for young Herbert's
early interest in geology
.) During Herbert Hoover's childhood, the intersection of Downey and Main was the town crossroads. Although several of the streets that existed historically have been moved or no longer exist, you can still see the road trace of the original Downey Street as it runs past the little birthplace cottage. Because it wasn't far, the Hoover family walked down this street into town to do their shopping.