It may be hard to imagine, but Downey Street was once a very important thoroughfare. Downey Street was the entrance into West Branch from the south. If you look up and down the gravel trace of the old road, you can see scattered hitching posts in front of several of the homes.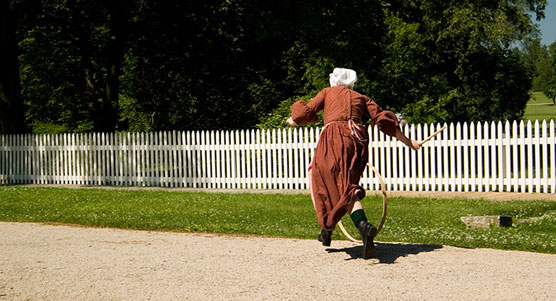 Linda Staats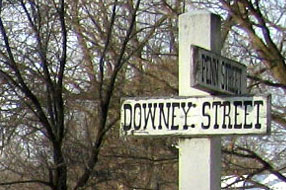 NPS Photo
In 1870, the U.S. census counted Iowa's population at almost 1.2 million. The towns and farms that now covered the state had, within a single generation, replaced the traditional American Indian uses of the land.
Herbert Hoover's
grandfather, Eli Hoover, was one of the first few settlers of West Branch, arriving by covered wagon in 1854. When the census takers came sixteen years later, the town's population stood at about 200. But the railroad's arrival in West Branch that same year helped the town's rapid expansion into a thriving agricultural and business centered community. (The railroad was also indirectly responsible for young Herbert's
early interest in geology
.) During Herbert Hoover's childhood, the intersection of Downey and Main was the town crossroads. Although several of the streets that existed historically have been moved or no longer exist, you can still see the road trace of the original Downey Street as it runs past the little birthplace cottage. Because it wasn't far, the Hoover family walked down this street into town to do their shopping.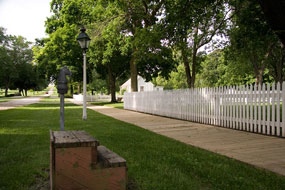 Linda Staats
Did you notice how most of the homes along this street have either four-board or picket fencing in their front yards? For modern-day homeowners, what looks like a decorative choice was actually one of necessity for the folks living on Downey Street. When "Bertie" Hoover was a boy, he probably saw local farmers drive their livestock to market down the middle of this wide street - right past his front door. But if it weren't for those fences, a stray pig or cow might have actually wound up eating the vegetables in his mother's garden or stepping on the tulips in their front yard!
In the 1870's, the streets of West Branch were either "dusty thoroughfares or muddy bogs." When it rained Downey Street would turn sticky with mud and lots of wagon wheel ruts. It wasn't unusual to see a team of oxen or even a horse and buggy get stuck. At the time of Hoover's birth in 1874, West Branch didn't have sidewalks. However, by 1885 the city had finished over three and a half miles of wood plank walkways. The sidewalks here today are representations of those late 19th century boardwalks; they may be slippery when wet, so please watch your step.
Audio Tour Stop 103: Downey Street

Downey Street was the entrance into West Branch from the south.

Duration:

2 minutes, 35 seconds

Credit/ Author:

NPS

Date created:

2010-06-22