Birthplace Cottage Restoration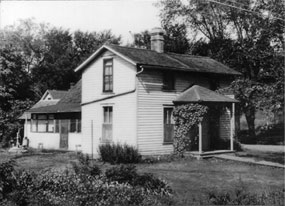 Herbert Hoover NHS Collection
Even before
Herbert Hoover's
election to the Presidency in 1928, his wife
Lou Henry Hoover
had tried to purchase the
Birthplace Cottage
to return ownership to the family. Finally, in 1935, with the help of her sons, Herbert, Jr. and Allan, the property was acquired for the sum of $4,500.00, but there was much work to be done. Although previous owners had altered the two-room cottage, it was never moved off of the property and now sits within one to two feet of its original location.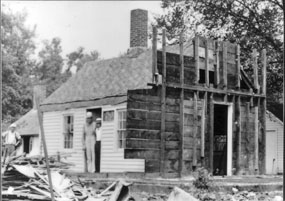 Herbert Hoover NHS Collection
Restoration began in the summer of 1938, with the removal of a two-story addition built in 1890. Then the Birthplace Cottage was re-positioned 90 degrees to the south, so that its front door would once again face Downey Street. Since most of the original furnishings were unavailable, the family decorated the cottage with period pieces they felt best represented the home in which Hoover and his family lived. Lou Henry Hoover relied on the recollection of various family members, including Herbert's older brother, Tad, who was then the Dean of Mining Engineering at Stanford University. She turned those stories into a manuscript called "Memories of a Little House."
In it she wrote, "There was a cellar, of course, where vegetables and other edibles were stored beyond the reach of the frost. In such a tiny house the cellar door was a necessity outside, demanding the throwing of shawl over head and shoulders, as one ran to it from the back door of the kitchen on a freezing day".
Restoration was still going on when Lou Henry Hoover began a search to hand over the historic property to an association that would be as vigilant of her husband's legacy as she was. In 1939, the Hoover Birthplace Society was formed; a non-profit membership organization that evolved into the active support group known as the Herbert Hoover Presidential Library Association.
Audio Tour Stop 106: Restoration of the Birthplace Cottage

Even before Hoover's election to the Presidency in 1928, Mrs. Hoover had tried to purchase the birthplace cottage to return ownership to the family.

Duration:

1 minute, 50 seconds

Credit/ Author:

NPS

Date created:

2010-06-22

Download Original File:


Donate

Donations help preserve the park and provide visitor services. Read More

Pets

Tips for a safe and fun visit with your pet. Read More

Be a Junior Ranger

Anyone can be a Junior Ranger any time of year by earning an official badge and certificate after completing activities during a visit to the park. Read More