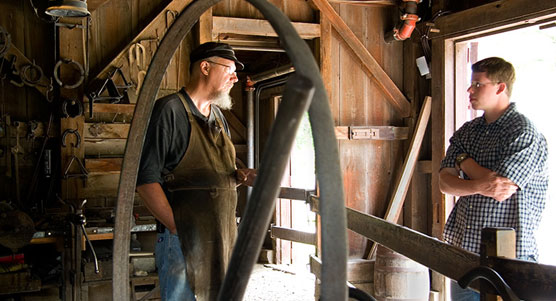 Linda Staats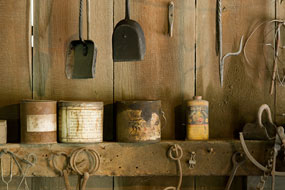 Linda Staats
This reconstructed shop, built in 1957, is based on the sketches of Herbert's older brother Tad, from his recollections of what their father's shop looked like. Lumber salvaged from a nearby barn, which had stood since the 1870s, was used in its construction. Located near its original location, the re-built blacksmith shop still sits just a stone's throw from the Birthplace Cottage.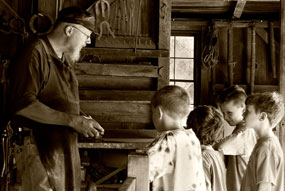 Linda Staats
The excitement of banging iron, sparking fires, and new visitors, often brought Tad and his younger brother "Bertie" across old Penn Street to investigate their father's business. One time in particular, according to Hoover's memoirs, left a "lasting impression" on the young Herbert:
"Playing barefoot around the blacksmith shop, I stepped on a chip of hot iron and carry the brand of Iowa on my foot to this day."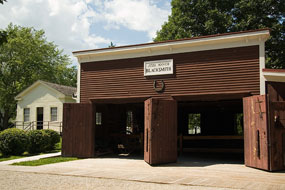 Linda Staats
Although there were other smithies in town, Jesse's friendliness, honesty, and strong work ethic helped his business to grow. His wry sense of humor came across in the ads he ran in the local newspaper, which read: "Horse shoeing and plow work a specialty. Prices to suit the times. J. C. Hoover."
The large double doors made it easy to maneuver horses around for shoeing or to bring in large wagon wheels or plows for repair. Inside the main building you'll find a working forge, along with an anvil, and a rack filled with period tools of the trade. Look around and see how many different size horseshoes or wagon rims you can find.
During select times of the year, park visitors can watch a blacksmith demonstrate the skill and hard work needed to turn ordinary iron into useful things. Items made during these demonstrations are for sale at the bookstore in the Visitor Center.
What impact did Herbert Hoover have as Secretary of Commerce on national and international business practices? Find out »

Audio Tour Stop 107: Blacksmith Shop

Jesse Hoover owned and operated a blacksmith shop in West Branch from 1871 to 1879.

Duration:

1 minute, 55 seconds

Credit/ Author:

NPS

Date created:

2010-06-22


Hoover Genealogy

An abridged Hoover family tree, beginning with Herbert's parents. Read More

Jesse Hoover

Herbert Hoover's father Jesse was a blacksmith and ambitious West Branch businessman. Read More

Graves of Jesse and Hulda Hoover

Herbert Hoover's parents are buried at the West Branch Municipal Cemetery on North Maple Street. Read More