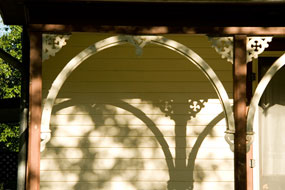 Linda Staats
Amanda Garvin was a single 35-year old woman when she bought Lot number 6 in May of 1870 for the sum of $90.00. By 1872, the small, one and a half story wood frame cottage at 114 South Downey Street was built on her property. Herbert "Bertie" Hoover and his older brother Tad would have passed by this cottage on their way to school each day.
The cream-colored Garvin house is a wonderful example of the Gothic Revival style with its steeply pitched roof, gingerbread bargeboard trim, and ornamental arches framing the open front porch. If you're familiar with Grant Wood's painting of the pitch-fork holding farmer and his wife called "American Gothic," you'll recognize how the Cedar Rapids artist drew inspiration from an eastern Iowa architectural staple.
By 1878, Miss Garvin was using her cottage as a rental property. Two years later, and still single, the U.S. Census showed she was living and working as a housekeeper for the Presbyterian Minister A.M. Heizer and his family. During the fifteen years she owned the property, Amanda Garvin mortgaged it several times. It was however, one time too many. The shed addition on the back of the house, and the hipped-roofed addition on the north side were added a few years after Miss Garvin lost the home to foreclosure in 1885.
Audio Tour Stop 110: Garvin House (1:30)

The cream-colored Garvin house is a wonderful example of the Gothic Revival style.

Duration:

1 minute, 21 seconds

Credit/ Author:

NPS

Date created:

2010-06-22

Download Original File: