The influence of
Herbert Hoover
,
Lou Henry Hoover
, and their family shaped the development of the presidential memorial area in order for the public to gain a fuller understanding of Hoover's life.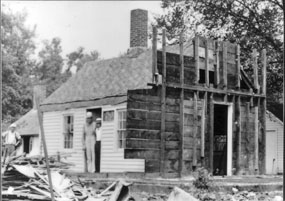 Herbert Hoover NHS Collection
The park's memorial landscape and its elements symbolize American ideals of religion, education, hard work, community, and entrepreneurship as Herbert Hoover saw them and lived them. The landscape and historic furnishings are a deliberate effort to commemorate and celebrate Herbert Hoover's accomplishments and ideals, rather than an attempt to fully recreate the setting of his youth. They reflect the wishes and direct involvement of the Hoover family, and especially Lou Henry Hoover, as they expressed them during the site's development from 1935 to 1966. As additions to the historic landscape, the Gravesite, the Statue of Isis, and the Presidential Library and Museum connect Herbert Hoover's early childhood to his later accomplishments.