Field Trip Program
Lessons Learned in West Branch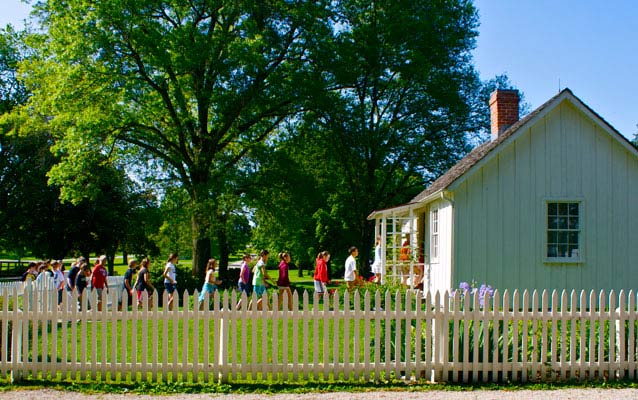 NPS Photo by John Eicher
Description
How did Herbert Hoover's early years in 19th century West Branch influence his character? Which character traits did he learn that made him a leader? Where do we get our own skills for success? 
A park ranger discusses these questions with your class during a tour of the Birthplace Cottage, Blacksmith Shop, Schoolhouse, and Friends Meetinghouse.
This tour is recommended for grades 3 through 5 but can be adjusted for other ages. Groups should be no larger than 30 participants per tour, including adults. Picnic shelters are available for lunch, first-come first-served.
Prepare
Curriculum materials and suggested reading can help teachers and their classes make the most of a field trip. Be prepared: as you plan your visit find directions, operating hours, and other things to know before you come.
The Herbert Hoover NHS mobile app can help teachers prepare or to lead a self-guided tour with their classroom.
Fees
There is no charge to visit Herbert Hoover National Historic Site or to reserve a guided tour. 
Reservations
Beginning January 2, 2016, find available dates and times for your guided tour and reserve online. Book your tour »
319-643-7866
Details
Subject:

Business, Commerce and Industry, Economics, Entrepreneurs, Family Life, History, Leadership, Philanthropy/Humanitarianism, Religion, Social Studies, Sociology, U.S. Presidents, Women's History

National/State Standards:

Iowa Core (3-5): SS.3-5.BS.2, SS.3-5.E.1, SS.3-5.H.1, SS.3-5.H.4, SS.3-5.PSCL.1;
Illinois Learning Standards (3-5): State Goals 16 & 18;
National Standards for History (3-5): Topic 1 Standard 1, Topic 2 Standards 3 & 4

Keywords:

Herbert Hoover

type:

Field Trip Program
Experience More
on NPS.gov
Lesson Plans
Distance Learning
Field Trips