Herbert Hoover Presidential Library and Museum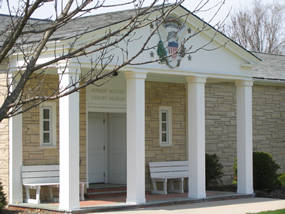 NPS PHOTO
The Herbert Hoover Presidential Library and Museum was opened to the public on August 10, 1962, Herbert Hoover's 88th birthday. The dedication took place at the library's original entrance, which is the small portico at the east end of the building supported by four white pillars and topped with an earlier version of the presidential seal.
Timothy Walch, Director of the Herbert Hoover Presidential Library and Museum shares a story about that historic day:
"Herbert Hoover went to the dedication of the Truman library in 1957…Well, Harry Truman reciprocates by coming to the dedication of the Hoover library, and when they walk through those doors Truman looks around and with typical Truman bluntness says, 'Mr. President'—turning to Herbert Hoover—'Mr. President, this museum is too damn small.' And Herbert Hoover looks over at Mr. Truman and says, 'Yes, Mr. President, but knowing the federal government, I'm sure it will grow over time.' And both of them were right."
Since that day, the museum has been expanded and renovated several times, with the most recent change funded by a partnership between the U.S. government and the non-profit Herbert Hoover Presidential Library Association.
Although it is located in a national park, the Presidential Library and Museum is independently operated and maintained by the National Archives and Records Administration. Open from 9 a.m. to 5 p.m., 362 days a year, the museum houses millions of papers and over 300 collections relating to both President and Mrs. Hoover, their friends, and associates. Permanent galleries take you from President Hoover's boyhood in Iowa and continue on to a recreation of the Waldorf Towers apartment in New York where he spent the final years of his life.
Herbert Hoover was proud of the modest museum here because it fit within the context of the other buildings on the site. According to Timothy Walch:
"He was determined to locate it on a lower terrain than others had suggested; they wanted to locate it up on the top of Cook's Hill. And he said, 'No, no, I want it down with the other buildings. I don't want it any taller than any of the other buildings on the site. It should fit in, in a very modest way with the other buildings.'"
Perhaps what Herbert Hoover didn't foresee back in 1962, was how this Presidential Library and Museum would be transformed into a nationally recognized center of study. Timothy Walch says:
"When the Hoover Presidential Library was opened, the expectation was that we would put a few trinkets, trophies, and so forth, on display for the public to see, and that we would have the documents available just for post-doctoral scholars. Well, now these institutions have schools of public service where young people begin to study the values of the president, and there are research think-tanks where people prepare policy papers for future governmental administrations."
Take some time and go inside the Presidential Library and Museum during your visit. You'll learn the story of Hoover's fifty years of public service and gain a fuller understanding of the life and times of America's 31st President.
Audio Tour Stop 126: Herbert Hoover Presidential Library and Museum (3:30)

Presidential Libraries give the American people the opportunity to explore the legacy of American Presidential leadership.

Duration:

3 minutes, 19 seconds

Credit/ Author:

NPS

Date created:

2010-06-22

Download Original File:
Take a Virtual Tour
This is a stop on the virtual tour of Herbert Hoover National Historic Site.



Hoover's Higher Education

In 1891, 17-year old Bert Hoover enrolled in Stanford determined to become a mining engineer. Read More
Did You Know?

In 1874, the year Herbert Hoover was born, Ernest Shackleton (an early Antarctic explorer), Honus Wagner (one of the greatest baseball players in history), Harry Houdini (a famous professional magician), and Robert Frost (Pulitzer Prize winning poet) were also born. More...