Volunteer Project Days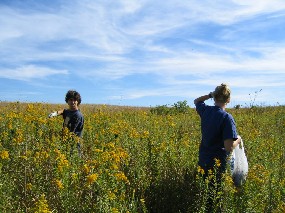 NPS Photo
Herbert Hoover National Historic Site enlists local volunteers and volunteer organizations to keep the park looking worthy of the 31st President of the United States. These projects are great opportunities to get involved hands-on with your local national park. The type of work depends on the season and the needs of the park. Volunteers may help park staff maintain the historic landscape or reconstruct the 81-acre tallgrass prairie.
How to Get Involved
Check the schedule of events for the next volunteer project date. Projects are normally scheduled during National Park Week in April and on National Public Lands Day in September. Additional dates may be available for groups interested in helping. If you can help, contact us at (319) 643-2541.
Plan to dress for the weather and wear comfortable work clothes. Water, sunscreen, insect repellent, sunglasses, and hats are recommended. Long pants and closed-toe footwear are required.