Artist-in-Residence Program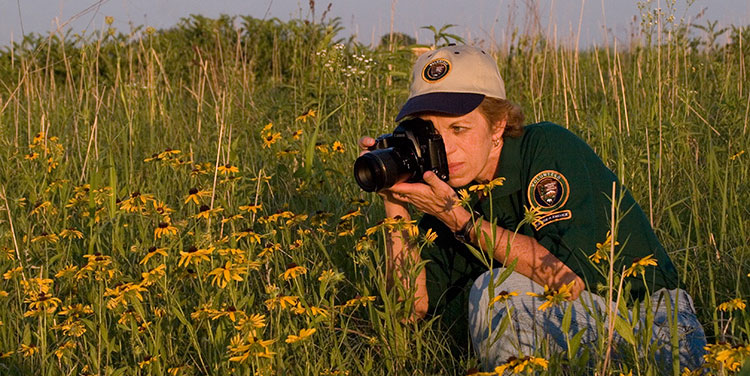 Linda Staats
Artist-in-Residence (AIR) Program at Herbert Hoover National Historic Site promotes creative means of communicating the park's national significance and its relevance to park visitors.
Herbert Hoover National Historic Site is not accepting applications for artist residencies this year. A listing of other National Park Service Artist-in-Residence programs can be found at nps.gov.
Artists in National Parks
Artists have been part of national parks since the 1870s when famed painters played a vital role in documenting the majestic landscapes of the West. It was through their works of art that many first saw these special places in America. Today artists are working in more than 40 national parks through Artist-in-Residence (AIR) Programs.
The residencies at Herbert Hoover National Historic Site allow selected artists to communicate the park's national significance through their artwork. A selection of visual arts contributions by the park's Artists-in-Residence are displayed at the visitor center.
Selected Former Artists-in-Residence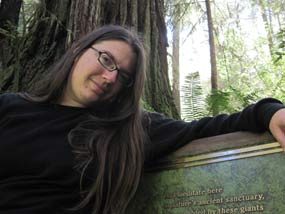 Emily Melhorn
Emily Melhorn
September 12-November 2, 2013
Emily Melhorn is a writer currently living in Los Angeles. She was a former journalist for The Gettysburg Times, The Evening Sun, and NoHo News. Ms. Melhorn wrote a column "Living the Dream" for many years for The Gettysburg Times. She has had short stories and plays published in Red Weather, received the John V.A. Weaver Prize in Poetry, and Fiction Honorable Mention for Hayden's Ferry Review. Ms. Melhorn was Artist-in-Residence at Homestead National Monument of America in 2012. She is looking forward to writing at the Herbert Hoover National Historic Site and adding to the depth of work about Herbert Hoover. "I would like to put my writings about Herbert Hoover in the context of current issues and events," said Ms. Melhorn.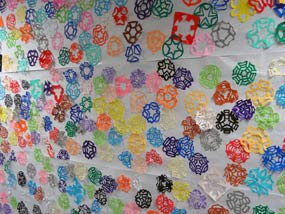 NPS Photo
Vivian Hyelim Kim
April 2-May 25, 2013
Vivian Hyelim Kim was born in South Korea and was raised in the U.S. She received her MFA in Painting from Pratt Institute in New York and BFA from Arizona State University Herberger College of Fine Arts. She has had solo shows at Chashama Gallery in New York City and in Seoul, South Korea. She has also participated in numerous group shows and is a recipient of a grant from the National Endowment for the Arts. She has been awarded residencies at the Virginia Center for the Creative Arts, New York Mills Residency, Paducah Artist in Residence, Vermont Studio Center and the Contemporary Artists Center. "I wish to observe the plants, flowers, and other organic elements at Herbert Hoover National Historic Site," said Ms. Kim, "and use their forms and patterns in my paper cut outs."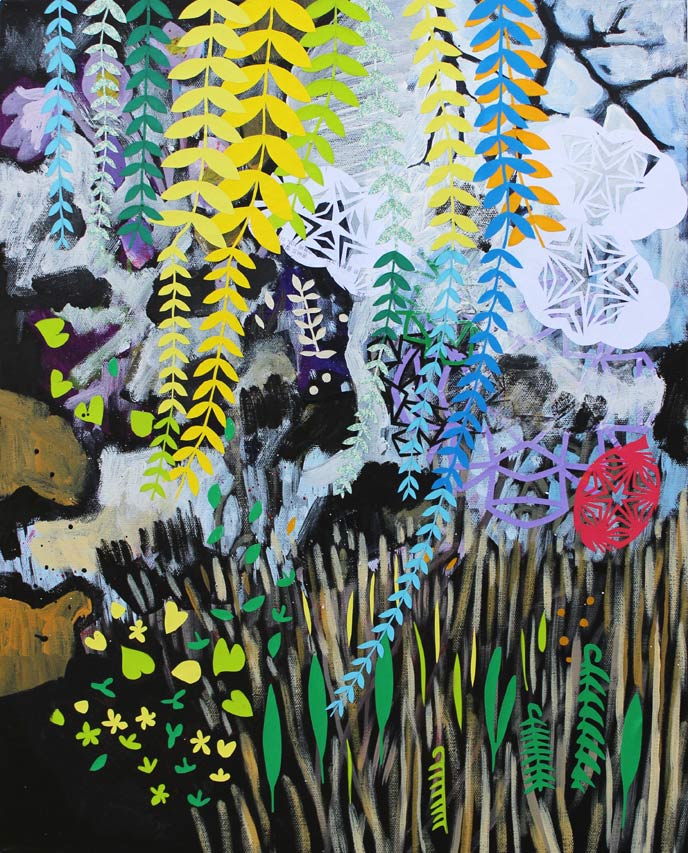 Vivian Hyelim Kim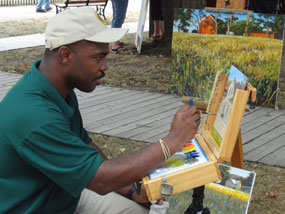 NPS Photo
Steven S. Walker
July 29-August 11, 2012
Born in Myrtle Beach, South Carolina and raised in Virginia, Steven S. Walker has been creating artwork for most of his life. A former freelance illustrator and college instructor, Mr. Walker found peace of mind and inspiration painting the back roads and rustic barns of Virginia. He has exhibited several solo shows and in various national exhibitions such as the 2012 Salon International and the Richeson 75 Landscape Show. Mr. Walker resides in Westerville, Ohio with his loving wife and biggest fan, Evelyn.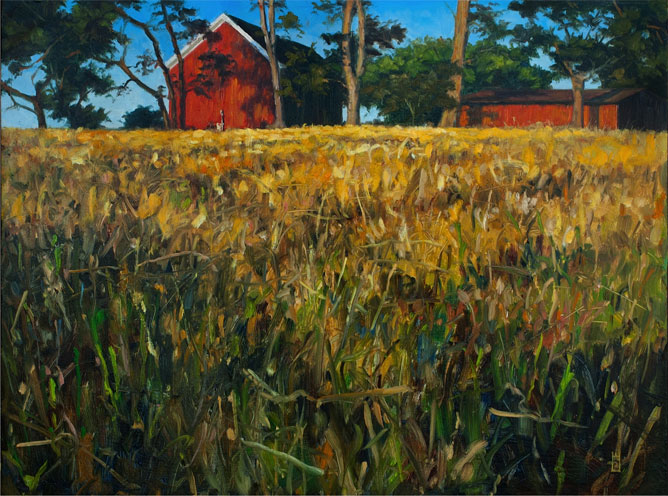 Steven S. Walker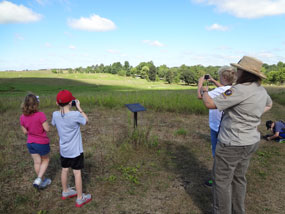 NPS Photo
Missy Gaido Allen
2012 Artist-in-Residence
Born in Houston, Texas in 1968, Missy Gaido Allen studied studio art and art history in the United States and Italy. She holds a Master's in Art History from Rice University and a Ph.D. in Art History from the University of Iowa. Ms. Allen's images are in the permanent collections of the Cedar Rapids Museum of Art, the University of Iowa Hospitals and Clinics, and multiple private collections. She has exhibited her work widely in solo and group exhibitions and has licensed images to Sony and Hasselblad. Ms. Allen lives in Iowa with her family.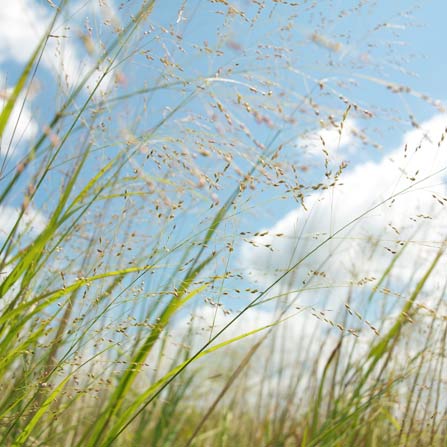 Missy Gaido Allen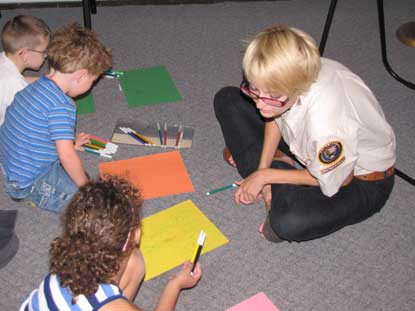 NPS Photo
M.S. Coe
July 4-July 20, 2011

M.S. Coe grew up in the Sonoran and Mojave deserts. She worked at the University of Arizona Poetry Center and as a reader for Sonora Review and is currently an assistant editor of Epoch literary magazine. She teaches English and creative writing at Cornell University in Ithaca, New York, where she will receive her MFA degree. Her fiction often explores the disassociation characters feel when placed into strange environments and how they reconcile with their surroundings.
Read M.S. Coe's short story, "Summer Yardscape" (PDF file, 2,063 KB) »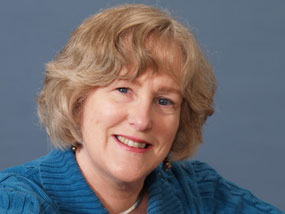 Gaynell Gavin
Gaynell Gavin
May 28-June 20, 2011
Gaynell Gavin's prose and poetry has been published in many literary journals and anthologies, including Fourth Genre, North Dakota Quarterly, The Best of the Bellevue Literary Review (Bellevue Literary Press), Nebraska Presence (Backwaters Press), and Best New Poets 2006 (Samovar Press). Her poetry chapbook, Intersections, was published by Main Street Rag Publishing. Her essay, "What We Have," published in Prairie Schooner, was included among "Notable Essays " in The Best American Essays 2009. This essay, like much of her work, is grounded in the Midwest. She is originally from Illinois and is a faculty member at Claflin University in Orangeburg, South Carolina.
Read Gaynell Gavin's essay "Reflections of a Prairie Neophyte Topophiliac" (PDF file, 1,807 KB) »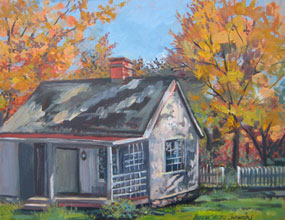 Patricia Rottino Cummins
Patricia Rottino Cummins
Oct. 17-24, 2009
Patricia Rottino Cummins of Miami, Florida, has been an art educator for over thirty years in the Miami Dade Public Schools. Her works of art are inspired by local landscapes, as well as by the vistas she has seen and photographed during her many travels and National Park residencies. "Lately I find myself closely concentrating on each landscape," said Ms. Cummins, "and discovering that unique element that interprets the moment, feeling, and importance of the subject."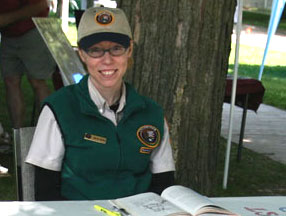 Laura Madeline Wiseman
Laura Madeline Wiseman
July 14-August 2, 2009

Laura Madeline Wiseman is a PhD student in English at the University of Nebraska-Lincoln. Ms. Wiseman's great-great-great-grandmother Matilda Fletcher Wiseman, an Iowa native who lectured across the Midwest in the 19th century, inspires her current research and writing project. "These poems capture not only her life and work," said Ms. Wiseman, "but also the natural landscape of the American West, where she was born and where she lived most of her life."
Read Laura Madeline Wiseman's poem "Maternal Lineage" (PDF file, 73 KB) »
Maternal Lineage

Poem by 2009 Artist-in-Residence Laura Madeline Wiseman

Duration:

1 minute, 49 seconds

Credit / Author:

Laura Madeline Wiseman

Date created:

2012-10-11

Download Original File: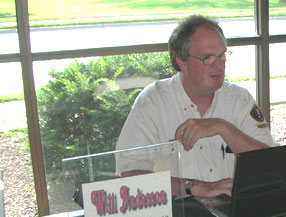 Kristen Bergren
Will Anderson
July 7-July 20, 2008
Will Anderson, assistant professor at Central Michigan University, is an award-winning radio dramatist, with regional and national awards, including two National Audio Theater Festival awards in 2007 and 2003, and the 2006 National Broadcasting Society Region 2 Best Comedy Award.
During his residency at Herbert Hoover NHS, Dr. Anderson wrote the radio drama script "The Son of West Branch, America's Great Humanitarian". His production of that script won an Award of Excellence from the Broadcast Education Association in 2012. The script is available for free download. Please contact us if you are interested in using it in a production.
Read Will Anderson's radio drama script "The Son of West Branch, America's Great Humanitarian" (PDF file, 196 KB) »
The Son of West Branch, America's Great Humanitarian: An Aural Memoir

Award-winning radio drama by Dr. William Wayne Anderson, performed and recorded at the 2011 National Audio Theatre Festivals.

Duration:

39 minutes, 23 seconds

Credit / Author:

Dr. William Wayne Anderson

Date created:

2011-06-24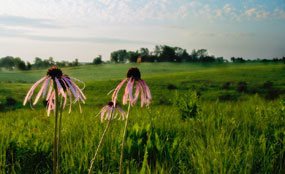 Linda Staats
Linda Staats
June 20-July 5, 2008
Photographer Linda Staats is known for her imagery of the Midwest heartland and the Pacific Northwest. Her photographs are in private and corporate collections and have appeared in galleries, brochures, notecards, and calendars. She recently returned to the Midwest after living in Washington State where she spent countless days photographing National Parks, and is now working on a project of Midwestern images. "I want to illustrate the diversity that exists in this part of the country-the richness that makes up the land, the people, and the life of this area."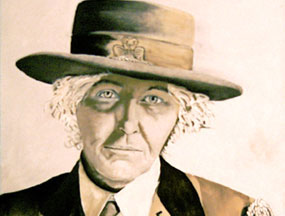 Herbert Hoover NHS Collection
Billie Davids
September 11-23, 2007
Billie Davids is a native of the small river town of Princeton, Iowa. After leaving behind artwork most of her life, Mrs. Davids started painting professionally three years ago. Her paintings capture moments of everyday American life. "I bought myself a camera a few years ago," says Mrs. Davids, "and started noticing all the ordinary activities that people of all ages were enjoying, sometimes planned activities they had looked forward to all week, sometimes impromptu moments, and I wanted to paint them, stop time, not just with my camera but in large as life pictures so I could say for them, 'See me, see what I can do.'"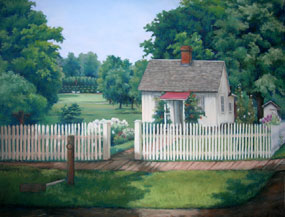 Herbert Hoover NHS Collection
Diane Blair Kunzler
July 19-August 4, 2007
Diane Blair Kunzler is from Glidden, Iowa, and has been featured in numerous art exhibits. She has a Master of Fine Arts from the Art Institute of Boston. Ms. Kunzler has explored Midwestern landscapes as a subject for her artwork for twenty years. "A residency at Herbert Hoover National Historic Site affords me the opportunity to explore an abundance of subjects of interest to me as an artist, and a unique opportunity to interact with people who visit the site," said Ms. Kunzler. "Art is so many times a solitary experience and I enjoy the casual interactions with people who are interested in the subjects I work with and the artistic process."
During her tenure as Artist-in-Residence, Ms. Kunzler painted a nine-inch circumference gold ornament supplied by the White House with scenes of the Herbert Hoover Birthplace Cottage and the Gravesite of President and Mrs. Hoover. The ornament was displayed on the National Park themed 2007 White House Christmas tree.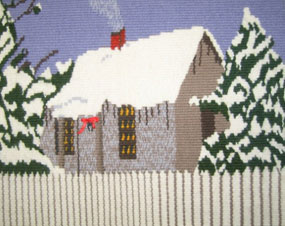 Herbert Hoover NHS Collection
Karen Page Crislip
September 13-29, 2006
Hand-woven tapestry maker Karen Page Crislip of Estes Park, Colorado has roots in eastern Iowa. She graduated from Bettendorf High School in 1966 and is related to Herbert Hoover. She is a trained and experienced educator eager to share her love of weaving with the public.
"I am very excited about returning to Eastern Iowa and seeing what happens to my images when I am focusing on designs in the environment of my early years," said Ms. Crislip. She started a number of designs during her residence and donated a tapestry, pictured here, interpreting the Birthplace Cottage in winter.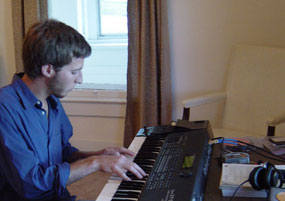 NPS Photo
Gabriel Sokoloff
July 14-28, 2005
Musician and composer Gabriel Sokoloff studied with renowned jazz pianist Alex Darqui. He performs keyboard and saxophone in West Palm Beach, Florida and Providence, Rhode Island.
Mr. Sokoloff's music and lyrics found expression in the charm and power of the National Historic Site's outdoors. During his residency, he composed, performed, and engineered three songs, including "Prairie Sun", an instrumental piece written for Herbert Hoover National Historic Site.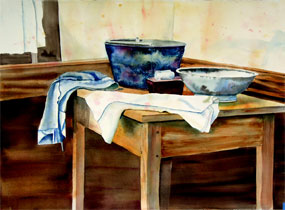 Caren Hackman
Caren Hackman
July 5-18, 2005
Painter and illustrator Caren Hackman immersed herself in the distinct light and texture of the National Historic Site's landscape. The park's Eastern Iowa locale was a sharp contrast to South Florida, where she has painted for decades. As Artist-in-Residence Ms. Hackman twice demonstrated working with highlights and shadows to distinguish forms in watercolor painting. She created three paintings while at Herbert Hoover NHS.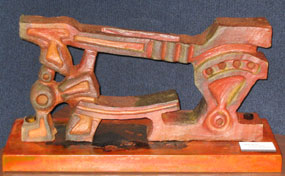 Herbert Hoover NHS Collection
Matt Moyer
September 24-October 22, 2004
Ceramicist Matt Moyer creates vessels and sculptures influenced by everyday implements and industry that surrounded the Mississippi River and its central plains in the late 19th century.
As Artist-in-Residence Mr. Moyer, who is interested in natural materals, demonstrated ceramics using clays found in Cedar County. Participants learned to make their own cup or bowl and to incorporate natural fibers.
Mr. Moyers donated sculpture of wood-fired stoneware on a steel base is modeled on a tool found in the park's working Blacksmith Shop.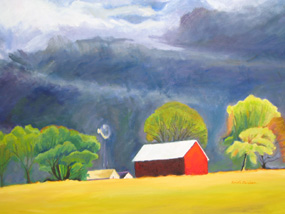 Herbert Hoover NHS Collection
Kristi Carlson
May 6-21, 2000
Kristi Carlson is an art professor and gallery director at Waldorf College in Forest City, Iowa. She holds degrees in art from St. Olaf College in Northfield, Minnesota and Purdue University, and has also studied art independently and at the University of Iowa.
Prof. Carlson's painting, "Miles Farmstead" is on display in the Visitor Center.