Visitor Centers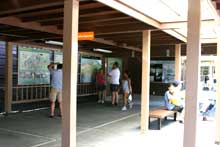 NPS photo by Dave Boyle
Make Kīlauea Visitor Center your first stop when entering the Park. Rangers are on duty in the visitor center from 7:45 a.m. to 5:00 p.m. daily and will provide visitors with the latest information on the current eruption, hiking information and permits, and the daily schedule of ranger-led activities.
The featured film, "Born of Fire, Born of the Sea", is shown on-the-hour in the visitor center auditorium, starting at 9:00 a.m. with the last showing at 4:00 p.m.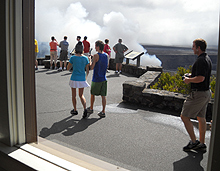 NPS photo by Norrie Judd
The Thomas A. Jaggar Museum is located along Crater Rim Drive, 3 miles from the Kīlauea Visitor Center. It is open from 8:30 a.m. to 7:30 p.m. daily. Built on the edge of Kīlauea Caldera, visitors may enjoy spectacular views of the caldera and the main crater Halema'uma'u from this view point.
Prior to its opening as a museum on volcanology (the study of volcanoes and volcanic activity), the building housed offices for the US Geological Survey's Hawaiian Volcano Observatory, the scientists who monitor the volcanoes in Hawai'i. Working seismographs and displays on equipment used by the scientists are exhibits in the center.
Jaggar Museum's overlook is the best place to view the current eruption that began March 11, 2008. An ash-laden fume cloud is issuing out of a new crater within Halema'uma'u crater.


Did You Know?
Kīlauea Volcano has erupted lava almost continuously from its east rift zone since 1983. These lava flows have added about 500 acres of new land to the southern shore of Kīlauea and covered 8.7 miles (14 km) of highway with lava as deep as 115 feet (35 m). More...