Kīpukapuaulu Virtual Hike
Kīpukapuaulu is a hot spot of biological diversity, with more native tree species per acre than any other forest in Hawaiʻi Volcanoes National Park. The essense of this treasured habitat is captured in its name: kīpuka (island of ancient vegetation surrounded by a sea of younger lava flows), pua (flower), and ulu (growing) - a fertile oasis of flourishing plants.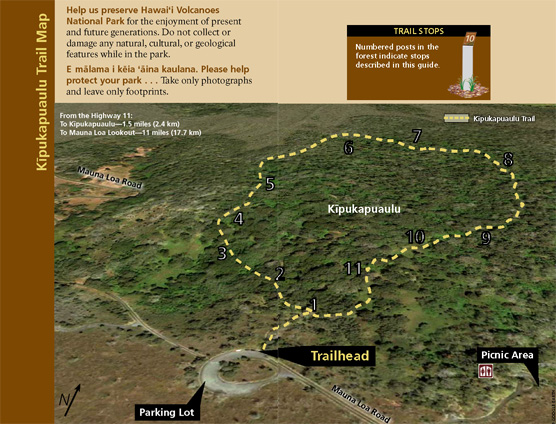 Download the Trail Guide (pdf-3.66MB)
You may purchase the published version of the Trail Guide at the Kīlauea Visitor Center Bookstore and at The Jaggar Museum Bookstore for $2.00
Also available for purchase on-line
Follow the trail stops on the map and read about each stop in the trail guide. Most stops have an interactive 360 degree panoramic view that you can visit by clicking the highlighted stop # below.
Note: Quicktime is required. It's a free download here:
http://apple.come/quicktime
| | |
| --- | --- |
| Stop 1 | You have entered the Wao Akua - the realm of the gods |
| Stop 2 | This revered kīpuka was nearly destroyed by grazing animals |
| Stop 3 | Fast-growing koa trees recover after years of weed control |
| Stop 4 | Unlike the now-thriving koa, the ʻōhiʻa lehua trees are dying of natural causes |
| Stop 5 | As the native plants recover, so do many rare species of insects |
| Stop 6 | Skylights provide a glimpse into the hidden foundation of Kīpukapuaulu |
| Stop 7 | The future of the ʻōhiʻa lehia tree can be read in the forest gaps of Kīpukapuaulu |
| Stop 8 | The forest floor of native ferns and herbs is also recovering |
| Stop 9 | The trail through this "veritable botanical oasis" was built by the hard-working CCC "boys" |
| Stop 10 | Park resource managers continue a long tradition of restoration |
| Stop 11 | Rescued from the brink of extinction, the hau kuahiwi is the crown jewel of Kīpukapuaulu |