April 16, 2014 - Mauna Loa Update

The recent wind advisory has been lifted and Mauna Loa has reopened for backcountry hiking and camping at Red Hill and the Summit.  However, More »
Hawai'i Volcanoes National Park Kahuku Unit
Kahuku is a place of dynamic volcanism, rich Hawaiian traditions and a fascinating history of ranching. It is a site of struggle and restoration for many unique plant and animal species of Ka'ū. Share in the wonders of this 116,000 acre unit of Hawai'i Volcanoes National Park.
Kahuku is located on Hwy 11 in Ka'ū near mile marker 70.5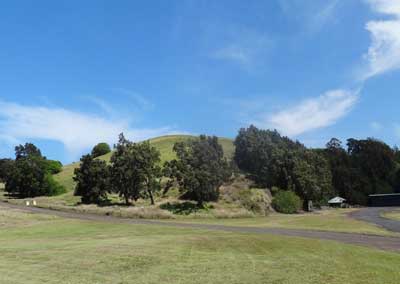 People and Lands of Kahuku is a moderate two-mile hike that loops through varied landscapes to explore the human history of Kahuku. From the earliest Hawaiians through generations of ranching families, learn how people adapted to, shaped and restored this land.
Dates: April 20, May 18 & June 22, 2014
Time: 9:30 a.m. to 12:30 p.m.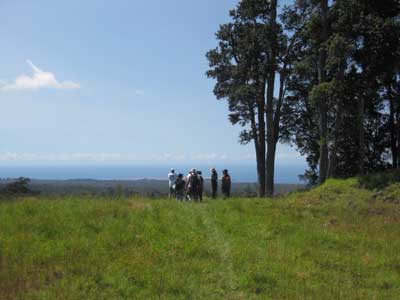 Palm Trail is a moderately difficult 2.6 mile loop trail traversing scenic pastures along an ancient cinder cone with one of the best panoramic views Kahuku has to offer. Discover how various plant and animal introductions altered this diverse ecosystem.
Dates: April 19, May 25 & June 29, 2014
Time: 9:30 a.m. to 12:30 p.m.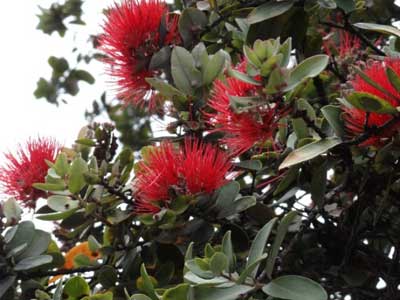 'Ōhi'a Lehua. There is more to the 'ōhi'a lehua tree than meets the eye. Learn about the vital role of 'Ōhi'a Lehua in native Hawaiian forests, the many forms of the 'ōhi'a lehua tree and its flower. Visitors traveling through the park will be able to identify the many differences of the most prominent tree in the Kahuku Unit. Pack a lunch and enjoy the program.
Dates: April 27, May 11 (Mother's Day), & June 15, 2014
Time: 9:30 a.m. to 10:30 a.m.
All activities are free to the public. Enter Kahuku on the mauka (uphill) side of Highway 11 near mile marker 70.5 and meet at the tent near the parking area. No advance registration is required.
Did You Know?

`A`ali`i (Dodonaea viscosa) is an important shrub with many traditional Hawaiian uses. Its hard and durable wood makes a fine spear. Seed pods are fashioned into beautiful lei, while its red capsules can be boiled to make dye.