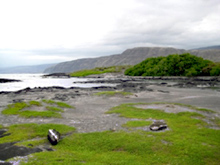 John Endriss
5:00 am - I wake up to some stars still visible as the sun starts to light up the sky over the cliffs. Glad it didn't rain last night.
6:30 am - The sun is starting to hit the snorkeling cove. I'm going in the water again!
7:00 am - The diving was even better this morning. Saw more fish this time, but I was in 1-2 feet of water almost the whole time. It can get really shallow here! Time to pack up now.
8:05 am - We leave the beach and head to the shelter to fill up our water bottles. We use pills to treat the water there.
8:30 am - Starting the main hike now with bottles full.
10:00 am - Finished the first cliff. Hiking is more difficult today as we are going uphill and the sun is out some of the time.
11:00 am - We stop (for one of several of our breaks today) at the bottom of the second cliff. GPS reading: altitude 1,400 ft. We'll see what it is at the top.
12:15 pm - Stop for lunch at the top of the second cliff. GPS reading: altitude 2,180 ft. We just went up nearly 800 ft. in just about half a mile!
2:15 pm - Finished the hike back: 7 miles long, 2,680 ascent. Tired, but not dead.