Mauna Loa Weather Advisory

March 7, 2014 - Mauna Loa is closed for day and overnight use. More »
Day Hike - 'Iliahi (Sandalwood) Trail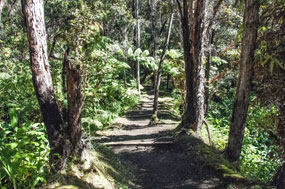 NPS Photo
'Iliahi (Sandalwood) Trail
Hike through rain forest, past steam vents with views of Kīlauea Caldera, Halema'uma'u Crater and Mauna Loa.
'Iliahi (Hawaiian for Sandalwood) grows among native and non-native trees along this trail.
Of interest: Rain forest, birds, steam vents, earthcracks, fault scarps.
Difficulty: Easy to moderate
Distance: 1.5 mile (2.4 km) loop
Trail begins to the right of the Volcano House hotel (when facing the caldera)
Bring: water, snacks, hat, sunscreen, raingear
Stay on the trail and stay away from scalding steam vents, earth cracks and cliffs.
Did You Know?

The endangered Honu`ea (Hawksbill Sea Turtle) comes to shore on the main Hawaiian Islands to nest. They lay multiple nests throughout the season with an average of 175 eggs per nest. Only one in 5,000 hatchlings survives to adulthood.