Day Hike - 'Iliahi (Sandalwood) Trail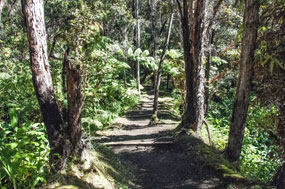 NPS Photo
'Iliahi (Sandalwood) Trail
Hike through rain forest, past steam vents with views of Kīlauea Caldera, Halema'uma'u Crater and Mauna Loa.
'Iliahi (Hawaiian for Sandalwood) grows among native and non-native trees along this trail.
Of interest: Rain forest, birds, steam vents, earthcracks, fault scarps.
Difficulty: Easy to moderate
Distance: 1.5 mile (2.4 km) loop
Trail begins to the right of the Volcano House hotel (when facing the caldera)
Bring: water, snacks, hat, sunscreen, raingear
Stay on the trail and stay away from scalding steam vents, earth cracks and cliffs.
Did You Know?

The `ohi`a lehua (Metrosideros polymorpha) is a pioneer plant on new lava and a dominant tree in most mature Hawaiian forests. Honeycreepers, like the `apapane and `amakihi, are often seen sipping sweet nectar from its flowers. More...