After Dark in the Park
After Dark in the Park
Special Speaker Presentations
Tuesdays at 7:00 p.m.
Kīlauea Visitor Center Auditorium

Park entrance fees apply
Presentations are free - suggested $2.00 donation supports park educational programs
---
September 23, 2014 - Hawai'i's "BIG" Earthquakes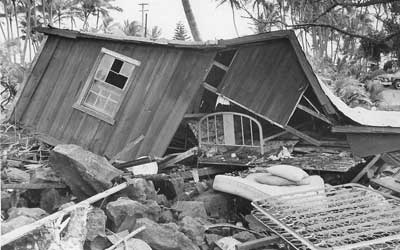 Big earthquakes pose an ever-present danger to Hawaii. But, what is a "big" earthquake—and how can you keep safe during the next one? Join Paul Okubo, a seismologist with the USGS Hawaiian Volcano Observatory, as he presents an overview of damaging earthquakes in Hawaii, including current theories on where and why they occur and what you can do to best protect yourself when they happen.
link to pdf poster (379KB)
Did You Know?

The two types of Hawaiian lava differ in appearance but are chemically alike. Pahoehoe has a smoother and ropey surface where a`a is jagged and clinkery.