Nāhuku - Thurston Lava Tube
July 27, 2015 - A construction project to replace the electrical line at Nāhuku (Thurston Lava Tube) is scheduled for August 3 through August 14, 2015. During this construction the lava tube will remain open, however, the normal exit route from the lava tube will be closed and the normal entrance will serve as the entrance and the exit.
Crater Rim Drive Tour - Stop #6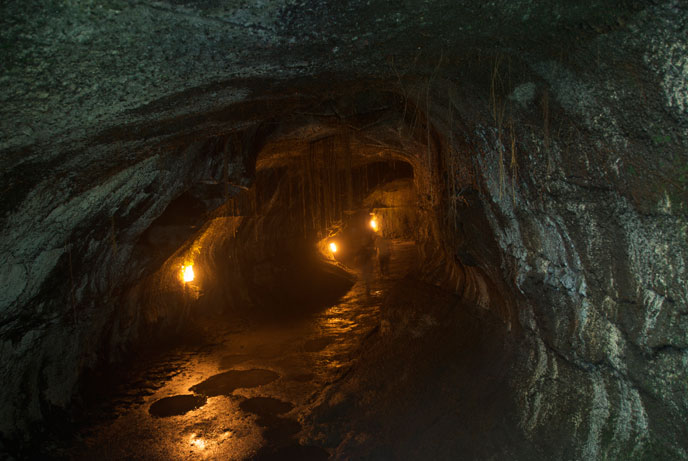 NPS Photo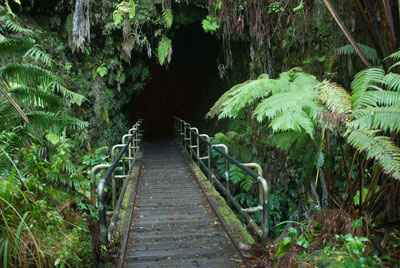 NPS Photo
As you drive the 1/2 mile from the Kīlauea Iki Overlook, the forest becomes increasingly lush. Soon you arrive at the Thurston Lava Tube.
A 20 minute 1/3 mile walk through a tree fern forest and lighted prehistoric cavelike lava tube awaits you. This is an excellent place to stop and listen to the birds. Watch carefully and you may see the red apapane feeding among the equally red ohi'a blossoms.
This lava tube was discovered in 1913 by Lorrin Thurston, a local newspaper publisher. At that time the roof of the tube was covered with lava stalactites, but those soon disappeared to souvenir collectors.
As you walk through the tube consider that several hundred years ago a river of red lava rushed through. Watch your head in the tube - there are some spots with a low ceiling!