Puʻu Puaʻi Overlook
Crater Rim Drive Tour - Stop #7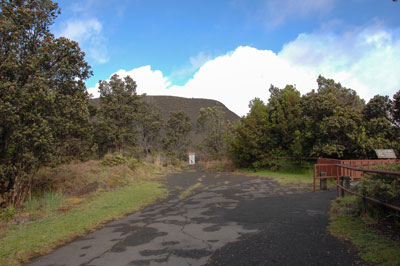 NPS - Ed Shiinoki
The next stop is the Puʻu Puaʻi Overlook. On most days, the strong trade winds make it easy to see how the cone was built during the high lava fountaining in 1959. Notice parts of the old road are buried under Puʻu Puaʻi. (Road rebuilding and rerouting is a fact of life here at Hawaiʻi Volcanoes National Park.)
Close to Kīlauea Ikiʻs fon>untaining, the lava pumice cinders were hot enough to weld themselves together into a spatter cone, Puʻu Puaʻi. Puʻu Puaʻi means gushing hill. Further downwind, the falling cinders had cooled sufficiently to form a blanket of cinders.
The Pu'u Pua'i overlook area is also the upper trailhead for Devastation Trail, which provides a full view of the spatter cone.
Did You Know?

`Ohelo (Vaccinium reticulatum) is a relative of blueberries and a favorite food of nene, the Hawaiian Goose. Its berries range from dark red to pale yellow when ripe and are sacred to Pele, the volcano deity.