Mauna Loa Weather Advisory

March 12, 2014 - Mauna Loa is closed beyond Red Hill Cabin due to high winds.
Devastation Trail
Crater Rim Drive Tour - Stop #8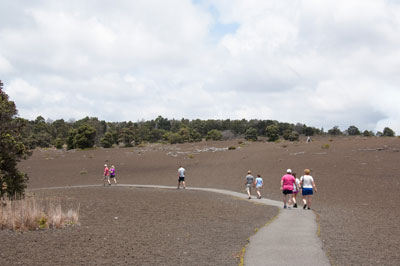 NPS - Ed Shiinoki
Approximately 1/2 mile from Puʻu Puaʻi is the Devastation Trail parking area. You can park your car here and take a 30-minute walk through the cinder outfall of the 1959 eruption of Kīlauea Iki. This 1/2 mile (each way) paved trail is wheelchair and stroller accessible. You can have the driver of your car proceed on to the Puʻu Puaʻi Overlook located 1/2 mile away and meet your group.
Another option is to walk the unpaved trail (.6 mile each way) to the Byron Ledge trail across the cinders being reclaimed by a variety of native and alien species.
Did You Know?

During the 1800's, vast quantities of fragrant sandalwood were the first major export of the Hawaiian Islands. The trade nearly caused the extinction of `iliahi or sandalwood (Santalum paniculatum).