Devastation Trail
Crater Rim Drive Tour - Stop #8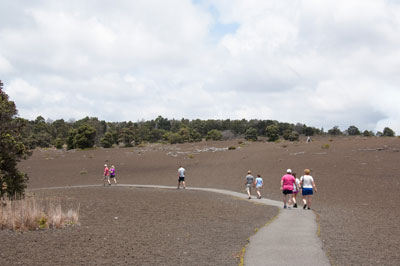 NPS - Ed Shiinoki
Approximately 1/2 mile from Puʻu Puaʻi is the Devastation Trail parking area. You can park your car here and take a 30-minute walk through the cinder outfall of the 1959 eruption of Kīlauea Iki. This 1/2 mile (each way) paved trail is wheelchair and stroller accessible. You can have the driver of your car proceed on to the Puʻu Puaʻi Overlook located 1/2 mile away and meet your group.
Another option is to walk the unpaved trail (.6 mile each way) to the Byron Ledge trail across the cinders being reclaimed by a variety of native and alien species.
Did You Know?

Only two butterflies found in Hawai`i are native. The Kamehameha Butterfly (Vanessa tameamea) is Hawai`i's state insect, brightly colored, and larger than the Blackburn's blue (Udara blackburni).