Crater Rim Drive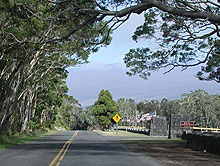 NPS
Take the Crater Rim Tour around a portion of the summit caldera, through rain forest and desert, and peer or hike into a crater that erupted just 50 years ago. There is access to scenic stops and short walks along the drive.
The best place to start the tour is at the Kīlauea Visitor Center. Films shown throughout the day provide an introduction to the park and volcanology. Ask at the information desk about ranger-guided walks, hikes and other programs. Located nearby is the Volcano Art Center, housed in the historic Volcano House sm which was built in 1877. This former lodge hosted many 19th century visitors to Kīlauea and is now a gallery for local artists and craftsmen.
Before starting out in your car, you may want to take an easy one-mile (roundtrip) hike on the Earthquake Trail. Early in the morning on November 16, 1983, a magnitude 6.6 earthquake shook a section of Crater Rim Drive into the caldera. Crater Rim Drive has been rerouted and the old cracked roadway is now a gentle paved walking trail that is suitable for strollers and wheelchairs. The trail begins at the exit of the Volcano House sm parking lot and offers fine views of Mauna Loa and Kīlauea Caldera.
Protect yourself by heeding the warning signs and help us protect endangered nene.
| | |
| --- | --- |
| Volcanic Fumes | Nene Protection |
| Heed warning signs. Fumes are hazardous to your health. Visitors with heart or breathing problems and infants, young children, and pregnant women are especially at risk and should avoid Halema'uma'u Crater, Sulfur Banks and other areas where volcanic fumes are present. | Nene (the Hawaiian goose) is an endangered species that needs your protection. Watch for nene on roads. Cars are the leading cause of adult nene deaths in the park. DO NOT FEED the nene. Nene that are fed by visitors learn to beg for food and approach moving cars. |