After Dark in the Park Video Archives - November 26 2013
Loading the player...


Weston Thelen

Large Earthquakes in the Hawaiian Islands: What You Need to Know

Duration:

1 hour, 1 minute, 43 seconds

Credit / Author:

Hawai'i Volcanoes National Park

Date created:

2013-11-26
November 26, 2013 - "Large Earthquakes in the Hawaiian Islands: What You Need to Know"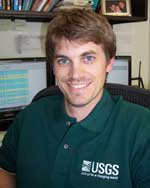 The Island of Hawai'i has a long history of damaging, deadly, and costly earthquakes. But, did you know that large earthquakes are an ever-present danger throughout the State of Hawaii? And do you know what to do to protect yourself during the next big earthquake? Weston Thelen, a seismologist with the USGS Hawaiian Volcano Observatory, will present an overview of damaging earthquakes in Hawaii, including current theories on why they occur, and what you need to know about future large earthquakes. He will also talk about Hawai'i's first Great ShakeOut, an earthquake drill that will take place on October 17, and how you can join in on the global effort to increase awareness of earthquake hazards and how to minimize their risks.
link to pdf poster (427KB)
Did You Know?

The two types of Hawaiian lava differ in appearance but are chemically alike. Pahoehoe has a smoother and ropey surface where a`a is jagged and clinkery.