After Dark in the Park Video Archive - March 25 2014
Loading the player...


Frank Trusdell - Mauna Loa

Eruptive history and current status of Earth's largest active volcano.

Duration:

1 hour, 3 minutes, 5 seconds

Credit / Author:

Hawai'i Volcanoes National Park & USGS Hawaiian Volcano Observatory

Date created:

2014-03-25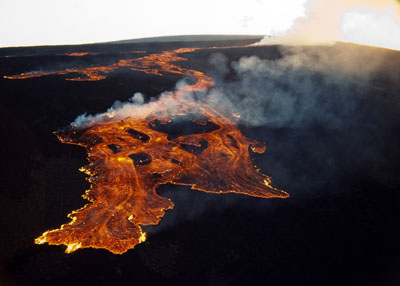 USGS Photo
March 25, 2014, marks the 30th anniversary of the most recent eruption of Mauna Loa, the largest active volcano on Earth. Mauna Loa comprises more than half of the surface area of Hawai'i Island, and 95% of this volcano is covered with lava flows less than 10,000 years old. Since 1843, Mauna Loa has erupted 33 times—and when it erupts, fast-moving and voluminous lava flows can reach the ocean in a matter of hours, severing roads and utilities, repaving the flanks of the volcano, and building new land. Join USGS Hawaiian Volcano Observatory geologist Frank Trusdell as he talks about the eruptive history and current status of Mauna Loa, an active volcano that will undoubtedly erupt again—perhaps in your lifetime.
Link to pdf poster (366KB)
Did You Know?

During the 1800's, vast quantities of fragrant sandalwood were the first major export of the Hawaiian Islands. The trade nearly caused the extinction of `iliahi or sandalwood (Santalum paniculatum).