After Dark in the Park Video Archives - March 4 2014
Loading the player...


From Ka'ū to Kona:

Stories of Lava Flows and Volcanic Landscapes

Duration:

54 minutes, 19 seconds

Credit / Author:

Hawai'i Volcanoes National Park

Date created:

2014-03-04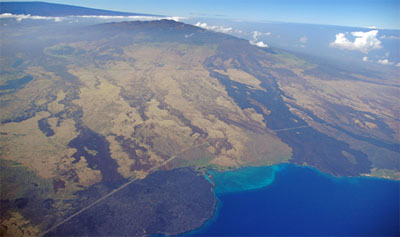 USDA Forest Service Photo
While driving between Ka'ū and Kona, have you ever wondered about the prominent lava flows you see along Queen Ka'ahumanu and Māmalahoa Highways? If so, you are invited to join USGS Hawaiian Volcano Observatory scientists Jim Kauahikaua and Janet Babb on a virtual road trip, during which they will talk about the origin and history of lava flows along Highways 11 and 190, and recount the stories of people impacted by the eruptions that created the volcanic landscape we see today.
Link to pdf poster (301KB)
Did You Know?
Kīlauea Volcano has erupted lava almost continuously from its east rift zone since 1983. These lava flows have added about 500 acres of new land to the southern shore of Kīlauea and covered 8.7 miles (14 km) of highway with lava as deep as 115 feet (35 m). More...