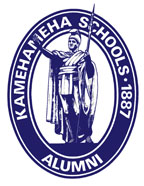 He meheuheu mai na kupuna (Traces from the Past)
Kamehameha School's Hawai`i Campus
Each year, the 6th grade teachers and students plan a huaka'i (journey), based on 'Ike Hawai'i (Experience Hawai'i). Its goal is to nurture, perpetuate, and practice the Hawaiian culture and its values—to include history, language, oral traditions, literature, and wahi pana (sacred sites). In the fall of 2008, the 6th grade team visited Hawai'i Volcanoes National Park to learn about two wahi pana—Pu'u Loa and Kipukapuaulu. By honoring the intelligence of our kupuna (elders), we prepare our keiki (children) for their future. Here are some of the outcomes of their efforts. Note: These are not captioned.